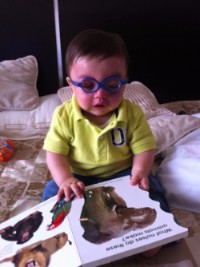 The Sturge-Weber Foundation has a wealth of great resources, and tools to help you have improved quality of lfe throughout your journey with Sturge-Weber syndrome and related birthmark conditions. Our resource materials will educate you on various topics, answer any questions you may have and inform you about the latest news.
Information on learning disabilities for parents, teachers, and other professionals.

This site is dedicated to uniting people interested in rights and issues affecting people with disabilities, with particular emphasis on college students and access to higher education and employment issues. The website was created while a college student with a grant to create a website to serve college students with disabilities.

Information for people seeking to file for Social Security Disability and or SSI Disability.

Aims to provide disabled individuals with all the knowledge and tips needed to successfully file a disability claim and receive the financial support they deserve.

More helpful information on Social Security Disability

The Simple Dollar has explanations of the process and lists of disabling conditions and includes a calculator of benefits.

For those who are having difficulty applying for SSDI, some suggestions from a private consultant.

Foundation's Patient Services provides patients with arbitration, mediation and negotiation to settle issues with access to care, medical debt, and job retention related to their illness.

The NINDS, an agency of the US Federal Government and a component of the National Institutes of Health and the US Public Health Services, is a lead agency for the Congressionally designated Decade of the Brain, and the leading supporter of biomedical research on disorders of the brain and nervous system.

Parents, educators, advocates, and attorneys come to Wrightslaw for accurate, reliable information about special education law, and advocacy for children with disabilities.

Disability disclosure guidelines booklet

Help and information for youth with disabilities on employment, legal rights and education.