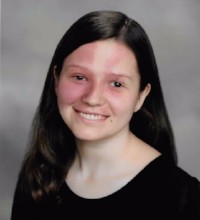 Meet Rebecca Stanton
My name is Rebecca Stanton. I'm 19 years old and will be starting my sophomore year of college next month. I grew up with a family that was very supportive, and I found that I could rely on my parents and my siblings whenever I was feeling insecure or uncomfortable with who I was. They raised me up and always showed me how to see myself in a positive light. They helped me get through all of the scary things that come with having Sturge-Weber, like laser treatments, surgeries, and sharing with people who don't know anything about Sturge-Weber.
In grade school I let my insecurities get the best of me, not reaching out to other people or joining clubs. Without the comfort of my family being with me at school every day, I had to make my own decisions and form my own friendships. I was scared and shy, so I decided to focus on building one friendship at a time, getting to know one person and letting them know all about me over time. The one person that I chose to focus on showed me that it is a good thing to open up and share with other people. She became my best friend, and stayed my best friend all the way through high school and to today. She cares not only about me as a person, but also about the issues I face as a Sturge-Weber patient. She always checks in on me after laser treatments for my port wine stain and she is always there to talk about anything.
I spent high school with my one friend, and I believed that was enough. When I got to college, however, I realized that my fear of being judged was irrational and that what really mattered was being happy and connected to lots of other people. I went out of my comfort zone and tried as many clubs as I could, talked to tons of people, and even joined a sorority. I'm excited to go back to school and see all of the new friends I've made, which is something I never looked forward to during my high school or grade school summers.
I learned that having Sturge-Weber can make you feel like you're different from everyone else, but everyone else has something about them that makes them different too. The people I met shared their stories with me, and we were able to learn about each other and enjoy one another's uniqueness. I learned that the fear being different should never limit you from talking to people or doing challenging and exciting things, because more often than not, it will turn out better than you could've imagined. If you reach out to new people with kindness and confidence, you will receive support and love because of who you are.