Lisa's Research Fellowship
2017 Research Fellowship Recipient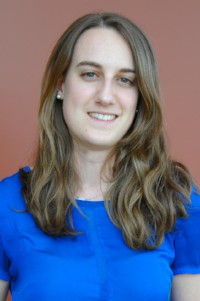 Colette Bichsel, PhD of Boston Children's Hospital Receives 2017 Lisa's Sturge-Weber Foundation Research Fellowship Award
HOUSTON, TX - AUGUST 15, 2017 -- The Sturge-Weber Foundation (SWF), a 501 (c)(3) nonprofit organization, has named Colette Bichsel, PhD of Boston Children's Hospital the recipient of the 2nd Lisa's Sturge-Weber Research Fellowship Award. Research is defined as "patient-oriented research" conducted with human subjects, or "translational research" specifically designed to develop treatments or further various areas of scientific discoveries within Sturge-Weber Syndrome (SWS). The funds for the Lisa's Research Fellowship Award are from a family that wishes to remain anonymous to focus the attention on "Lisa's Sturge-Weber Foundation Research Fellowship Award."
Dr. Bichsel is a postdoctoral researcher at Boston Children's Hospital and Harvard Medical School. Her fascination for how tissues self-organize led her to the field of vascular research. Before joining Vascular Biology Program in 2016, she completed her PhD in Biomedical Sciences at the University of Bern, Switzerland. She holds a Bachelor's and Master's degree (summa cum laude) in Bioengineering from the Swiss Federal Institute of Technology. She uses this technical background to develop tools that are suitable to study how blood vessels assemble and function.
"The Sturge-Weber Foundation is honored to present Dr. Bishcel with the 2nd Lisa's Sturge-Weber Research Fellowship Award and look forward to the positive impact that she will make in the lives of the patients and families with SWS," stated Karen L. Ball, Founder and CEO
Laymen's Fellowship Summary:   3D Multicellular Model to Study SWS Capillary Malformations
To view brief video of project, click here.
The mutated protein that is found in individuals with SWS is over-active and is likely to affect multiple processes in cells. Interestingly, our laboratory found the SWS mutation is present primarily  in cells that line blood vessels, called endothelial cells.
The goal of my project is to investigate how this mutation – called GNAQ p.R183Q -  affects the way in which blood vessels form and function. We hypothesize the mutant endothelial cells form blood vessels that look and also function abnormally. To study this, I will use a small chamber (a microfluidic chip) in which 3-dimensional networks of blood vessels form in a controlled and defined manner.  I will use human endothelial cells to form the blood vessels, and it is even possible to do this with cells from Sturge-Weber patients. 
The project has three parts.
The first aim will use CRISPR/Cas9 gene editing technology to introduce the GNAQ mutation into cells to create a "disease cell model."
The second aim will be to study how mutant versus non-mutant endothelial cells form blood vessels in the microfluidic chips,  I have the capability to determine how tight or leaky the vessels are and to what extent they can contract.  
The third aim will  test specific components that are known to have an effect on GNAQ in the blood vessel model, to see whether we can observe a differential effect on the mutant compared to the normal blood vessels.
Our ultimate aim is to accelerate the quest for a treatment for individuals with SWS and port-wine stain. The blood vessel model will be one of the first disease-specific vascular models.  It is a new, bottom-up approach that has the possibility to be expanded to include other relevant cell types and biochemical cues.  The model will bridge some gaps between existing cellular and animal models and help us understand how SWS develops. Conceivably, new treatments can  be tested in this SWS-specific model using the CRISPR/Cas9 edited endothelial cells and SWS brain or port-wine stain endothelial cells, before moving to whole-organism models. At the same time, our goal is to raise the awareness, interest and knowledge of SWS in our research community with this elegant 3D blood vessel model.