Automated Alerts On Scientific Articles
If you are interested in receiving automated announcements of scientific articles related to SWS and separately a list of GNAQ articles, subscribe to NCBI by clicking here. To sign up for alerts, you will need to sign in (at the upper right) and then on the PubMed search page, select the link "Create Alert".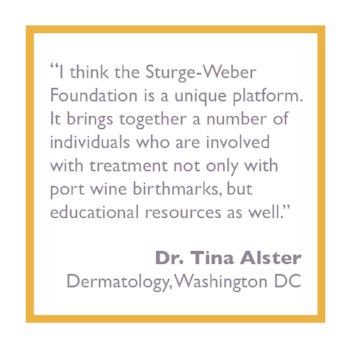 PARK CITY, Utah (News4Utah) - After a year and a half the owners of Lucky Ones Coffee were finally able to open up shop at the Park City Library. The business employs 13 people all who have a range of disabilities. The impacts go further than just having a job.
Taylor Matkins is one of the owners. She said she got the idea from a coffee shop she went to in college back in North Carolina. Her hope is challenge misconceptions about those with disabilities being able to work.
In the wake of recent events in the media with scandals, shootings and discord leading the headlines, it occurred to me that at the heart of it all is family, values and communication. Lead by example. Talk over the dinner table each night, restore or heal broken families, promote integrity and personal responsibility, bring up intolerance and what that looks like and so much more!
Stephen Peltier, a support of the Sturge-Weber Foundation, has accepted the position of Treasurer on the Sturge-Weber Foundation's Board of Directors.