Automated Alerts On Scientific Articles
If you are interested in receiving automated announcements of scientific articles related to SWS and separately a list of GNAQ articles, subscribe to NCBI by clicking here. To sign up for alerts, you will need to sign in (at the upper right) and then on the PubMed search page, select the link "Create Alert".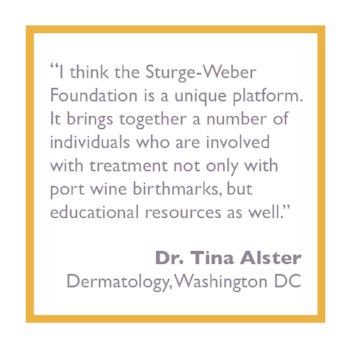 An Invitation to Our Steadfast Senior Members
We would like some ideas from our senior members, people with SWS who have been living with SWS,KT and PWB and who have amassed a wealth of knowledge and experience and would like to share it.
We want to develop guidelines for upcoming generations. Will you let us know the medical concerns you face now, or have learned to deal with. Right now you only have to let me know that you are interested in being a "senior resource" for future publications either print and on the website. A simple example would be "when did you find that your blood pressure needed better control" or "how did your skin change in your 40's"
Parents of adults with SWS can also give us pointers based on their experience and would provide valuable information. Many aspects of maturing may have no connection to SWS, but some may. Let's get the list on the table.
Of course we will also seek input from physicians and will seek their guidance. But we want to hear from the people on the front lines. You can just email me and let me know that you are interested in joining our "Growing Golden with SWS" project. I don't want to limit it by age. You know what you have lived with.
Think of it this way - can you say "If I had known I would have xxxxx now, I would have taken care of xxxxx sooner". Contact Anne Howard, ahoward@sturge-weber.org.