Automated Alerts On Scientific Articles
If you are interested in receiving automated announcements of scientific articles related to SWS and separately a list of GNAQ articles, subscribe to NCBI by clicking here. To sign up for alerts, you will need to sign in (at the upper right) and then on the PubMed search page, select the link "Create Alert".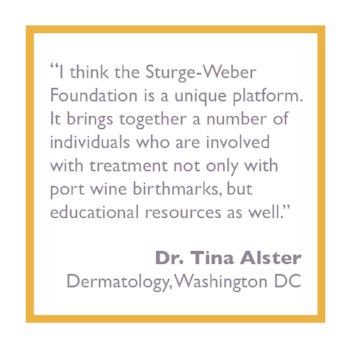 The goal of this Fellowship is to support patient-oriented research, basic science research, or translational studies relevant to Sturge-Weber syndrome or related conditions.
In the wake of recent events in the media with scandals, shootings and discord leading the headlines, it occurred to me that at the heart of it all is family, values and communication. Lead by example. Talk over the dinner table each night, restore or heal broken families, promote integrity and personal responsibility, bring up intolerance and what that looks like and so much more!