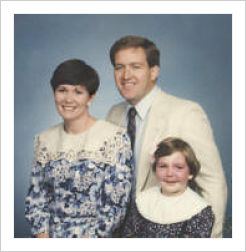 And in the Blink of An Eye . . . 30 Years Has Come and Gone!
You first child is such a thrill of anticipation for what lies ahead - a future full of hopes and dreams! It never even occurred to me that anything less than joy would be on the radar. Silly girl, it just goes to show what I knew although the attitude one has towards anything in life determines the outcome - but I digress and as usual get ahead of myself!
My first child, Kaelin, was born on a snowy October morning while I was watching a Broncos football game in a lovely hospital suite. She was 2 weeks late and had to be induced. Maybe she knew life would be a challenge once she came out. Nonetheless, out she came into this world at 9 lbs., 14 3/4 ounces. At first, the doctor thought she was a boy and playfully told us we had another Rulon Jones (Broncos lineman), but a rosy little girl was she! It quickly became apparent that her left eye was larger and cloudy - not a good sign and I was blissfully unaware of this due to the wonders of modern medicine and painkillers.
As soon as I decided to join the living, I could tell from the sad faces on my husband and mom that there was something wrong. There was a doctor on the way to check her eye which they thought had glaucoma. Interesting, my Gramma Lou had glaucoma, so I thought we will just put eye drops in like she did.
A rush of emotions floods in as a new mom's hormones come crashing down following the birth of a child. Little did I know that the roller coaster of emotions would continue to this day as we would have to ride out life with what we soon learned was called Sturge-Weber syndrome. Welcome to parenthood, good thing I was an optimist and had a huge family of support. The first year of life truthfully was a whirlwind of doctors, hospitals, surgeries, fear, sadness, coupled with immense moments of laughter and joy! There was also a slow burning ember that this Irish, German, Scottish and English little lassie was fanning. I was not happy that my life was not filled with those Gerber commercials of bliss and joy and that my baby girl was in pain! Can you say Warrior Mama?
In those dark days eons ago, there was no on-line support group, or immediate hold my hand and make it feel better resource other than some wonderful doctors - Allan Eisenbaum, Bill Weston and Joe Morelli, with family who kept my spirits up amidst the numerous eye surgeries to control her glaucoma. Kaelin had 3 surgeries in the first 3 months, not to mention all the EUA's (exams under anesthesia) and her seizures at 1 year old. My parents lived in Houston and my mom would come up for Kaelin's eye surgeries and help me adjust to the new normal of not only parenting, but parenting a child with a rare disease. I have to be honest, I was so consumed with recovering from a C-Section, nursing a new baby, and just getting through the day.  I actually had to take her to the ophthalmologist before I could even bring her home from the hospital when we got released. I had no energy left to worry about what Kaelin's dad, Kirk, was going through. He was, is and always will be cherished for how he supported us all through the war of SWS.
Imperfectly channeled emotions come to mind and there is a liar among you who doesn't admit that they too have had "moments" in their journey with SWS where they have either let their child down, themselves down, or their spouse down. It's just being human and thank goodness there is a bigger hand at play which brings us grace to face adversity with courage to keep getting back up when we get knocked down!
Over the years, we have faced and endured heartaches and pain. Gee, sounds like a good country song. Seriously thought, Kaelin is one tough little lady. She has weathered glaucoma, seizures, ischemic stroke, migraines, surgeries, depression, bullies and much, much more with grace, through tears and she still smiles. Blessed beyond measure! As a mom, of course, I would still love to see her with that special someone who will nurture her, protect her and be a refuge from life's storms. It's all in God's hands and we believe and move onward.
Through all her struggles, Kaelin is a Silver Award Girl Scout, has testified before Congress, is a motivational speaker, has a Masters Degree in Disability Studies, works for Jewish Hospital in Denver, drives and car and in most ways, lives life to the fullest. We believed she would thrive and feel that God made that possible because he knew what was to be my life's work and just how much I could handle as a mom. a parent and crusader for Sturge-Weber syndrome support and research. Not all children with SWS can say the same, but for those gone from us too young, and for those who battle on, we do not and cannot forget to get over ourselves and to continue to do all we can to wage war on this progressive and devastating syndrome.
As I look back on 30 years of living with one of the most courageous and beautiful young women I know, I am humbled that God placed Kaelin into my care and trust that my good has outweighed my bad. The stories we have read about during the Month of Awareness (May 2017) are all heartwarming and inspiring. My Kaelin (and our family) serve as just another story in the book of Sturge-Weber syndrome. I fervently hope that one day we can put that book on the shelf and let it gather dust.  It will be because we have written the last chapter and there are no other cherished we ones born with SWS.
The years tell us much that the days never knew!
Karen Ball
Founder and CEO
The Sturge-Weber Foundation