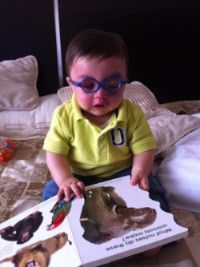 The Sturge-Weber Foundation has a wealth of great resources, and tools to help you have improved quality of lfe throughout your journey with Sturge-Weber syndrome and related birthmark conditions. Our resource materials will educate you on various topics, answer any questions you may have and inform you about the latest news.
Kaelin Ball Fund

Provides monetary assistance to SWF members who need small financial assistance for non-medical treatments not covered by insurance, but necessary to obtain proper care and treatment. Contact Anne Howard for details, ahoward@sturge-weber.org.

Locate your local Social Security office for more details.

Excellent documentation on the major neurological features of patients with Sturge-Weber syndrome including seizures, headache, focal neurologic deficits and cognitive and psychological impairment.

Includes tips and suggestions from the school nurse's perspective, sample letter to be sent to the teacher and staff, sample letter to be sent to the parents of classmates or published in the school newsletter, self esteem and students, seizure observation form, a guide for schools, epilepsy in the classroom - a teacher's role, and function in the academic setting.

Includes sample letter for daycare provider, seizure observation form, and types of seizures.

Basic information that school nurse will find valuable.

Power Point Presentation for Kids about Laser Treatments

This document should be completed by an individual (and/or their caregiver), to describe important aspects about their special health care needs. It was designed to be shared with many types of healthcare providers, in clinic and hospital settings. It is especially useful for providing pertinent information to those who are not very familiar in providing care to individuals with intellectual/developmental disabilities. The forms are available for download. They can be printed as is, or the information can be typed in before printing.

A necessity for the treatment of Port Wine Birthmarks.

Global Genes RARE Tootkits provide individuals with usable information on a variety of topics related to living with and/or advocating for rare disease patients. RARE Toolkits are being created in collaboration with key rare disease stakeholders that have developed a vast array of subject matter expertise and believe in the importance of sharing these best practices.