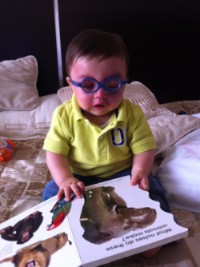 The Sturge-Weber Foundation has a wealth of great resources, and tools to help you have improved quality of lfe throughout your journey with Sturge-Weber syndrome and related birthmark conditions. Our resource materials will educate you on various topics, answer any questions you may have and inform you about the latest news.
SWS Textbook - 2nd Edition

The latest information and insight into Sturge-Weber syndrome. Whether it's for a reason, a season, or a lifetime, this textbook needs to be on your library shelf! The second edition describes newer imaging modalities and updates information about the clinical findings of Sturge-Weber syndrome and available patient resources.

SWS Guidebook for Teens

A booklet geared toward the issues of children ages 13-17. In addition to addressing the medical issues faced by this group, it also focuses on the social and emotional issues such as friendship, bullying, self-esteem, dating and family issues.

Someone Special

A 20 page booklet written for children with a birthmark, ages 2-7 and their parents. While viewing pictures of others with birthmarks, readers are encouraged to celebrate their talents.

A Kids Guide to SWS

Abundantly illustrated, gives elementary and middle school children solid facts about SWS. Also includes chapters on self-esteem, relationships and bullying. Also useful for teachers, classmates and family members.

Color Me Different Coloring Book

A coloring book that gives elementary level children a fun activity along with an important message about accepting other children who look different. Also discusses the manifestations of SWS in easy, kid-friendly language.

A comprehensive site for parents and teachers of children with special needs.

A complete guide to distance learning for students with disabilities. Learn how to work with disability services, employ assistive technology, evaluate online programs and succeed in the virtual classroom.

Online learning tips: Online College & E-Learning Strategies

Prospective students with disabilities will find that many campuses are quipped with offices and services that address accessibility, accommodation, and assistive technology.

See the benefits of online education for disabled students. While traditional brick-and-mortar colleges and universities may help accommodate students with disabilities, accredited online colleges offer the flexibility and accommodations that may help students get acclimated easier to the challenges of college life.

Countless resources available to make the transition to higher education less stressful.

The National information and referral center that provides information on disabilities and disability-related issues for families, educators, and other professionals. Their special focus is children and youth (birth to age 22). Now known as the Center for Parent Information and Resources.