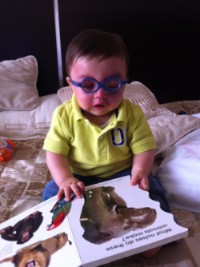 The Sturge-Weber Foundation has a wealth of great resources, and tools to help you have improved quality of lfe throughout your journey with Sturge-Weber syndrome and related birthmark conditions. Our resource materials will educate you on various topics, answer any questions you may have and inform you about the latest news.
Help and information for youth with disabilities on employment, legal rights and education.

Website that includes all emergency contact information, legal and government information for each state in one place.

The largest voluntary organization in the United States devoted solely to the welfare of disabled persons and their families.

A Voluntary organization dedicated to providing information, support and assistance to parents of children with disabilities, and professionals.

A Magazine for parents of children with special needs.

A comprehensive evaluation of off-the-shelf toys for children with special needs.

(ADA) envisions a day when Adaptive Design Centers (ADC) are operating in schools, agencies, and universities everywhere; and when all people with disabilities are fully educated, employed, and valued, in every family, community, and country. A workshop that designs and helps provide adaptive equipment for children with disabilities.

Devoted to issues regarding the provision of respite to caregivers.

A Network of pediatric specialty hospitals, founded by the Shrine, where children under the age of 18 receive excellent medical care absolutely free of charge.

Search for medical articles - known as PubMed.

This is a guide for job-seekers and workers with a disability. The guide explains the rights afforded to them by federal and state governments. In addition, we offer useful tips for finding a job, advice on staying gainfully employed, and gidance that can help them talk with an existing employer about making a reasonable accommodation.