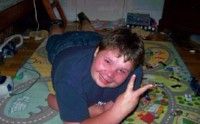 "We are thrilled that our experience walking through Theo's hemispherectomy surgery may have benefits that are far-reaching to the Sturge-Weber community. We were able to donate the removed affected tissue, the entire left hemisphere of his brain, to aid in research and serve to better inform others in the future. It is amazing how our lives have changed since his surgery. He is a new little boy, engaged and full of life!"                                        Brandi and Peter Shamberger

Questions About Donating to a Registry
What Tissues Are Needed? Many types of tissue from individuals are needed: skin, blood, oral swabs, even brain tissue. Donations from patients and sometimes unaffected family members are extremely beneficial.
How much Tissue is Needed? Very small to large amounts of tissue can be used. Donating normally has little risk, and can only be performed with consent.
Why Donate to a Tissue Bank and not a Specific Researcher? Tissue banks are funded to help coordinate storage and distribution of tissue samples specifically for research on rare and developmental disorders.
About the University of Maryland Brain & Tissue Bank (UMBTB)
The Maryland Brain and Tissue Bank (MBTB) is an organization whose primary purpose is to obtain, preserve and distribute human cells, tissue and organs to researchers and scientists. They are directly affiliated with the NIH. The NIH strongly supports MBTB, a project that provides the materials needed to understand and treat rare disease.
The SWF is proud to be working with the MBTB and NIH toward a cure for SWS and also for the increased clinical trials need for capillary malformation and PWB.
Why Invitae and UMBTB?
These two highly respected organizations are focused on advancing the cause and cure of rare diseases. They have registries of similar vascular malformation related diseases which give interested researchers a wider pool to investigate. The SWF believes this will increase the pace of discovery.
These partnerships are advantageous to individual living with SWS and to the SWF because they understand rare diseases and the burdens that can impact daily life. They make enrollment and securing tissue samples easy and understandable. More importantly, they both work closely with the NIH, and they care which is why signing up now is so important. The UMBTB has been a leading organization in the initiative to collect and bank vital specimens from individuals living with a rare disease. Their friendly and knowledgeable staff are on hand 24 hours a day in the event of a surgery or sudden death where time is of the essence.
 
Maryland Brain and Tissue Bank
1-800-847-1539
http://www.medschool.umaryland.edu/btbank/family/