Automated Alerts On Scientific Articles
If you are interested in receiving automated announcements of scientific articles related to SWS and separately a list of GNAQ articles, subscribe to NCBI by clicking here. To sign up for alerts, you will need to sign in (at the upper right) and then on the PubMed search page, select the link "Create Alert".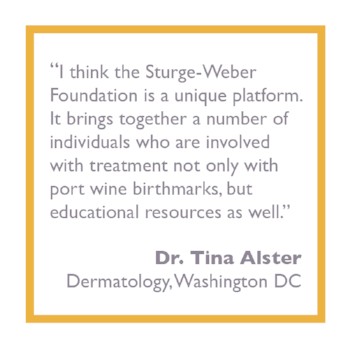 Michelle Daoust was born with a birthmark which spans across her 75 per cent of her face, half her neck, her right arm and 75 per cent of her back. The administrative assistant, from Ontario, Canada, was diagnosed with Sturge-Weber Syndrome (SWS) at birth. The condition is a rare disorder characterized by the association of a facial birthmark, neurological abnormalities, and eye abnormalities such as glaucoma
At eight months old, it was discovered that SWS had caused glaucoma in her right eye, making her 80 per cent blind. She was also diagnosed with epilepsy . Growing up, she was regularly teased about her appearance. Her peers dubbed her 'tomato face' and often asked her if she had eaten a red Crayola crayon. Michelle, who tried to take her own life when she was 16, says she has now learned to embrace and love her birthmark. She encourages others to ask people about their birthmarks, rather than just staring at them.
Winter Alert for Colds and Flu
Dr. Colette Bichsel Receives $10K Grant from SWF
The Sturge-Weber Foundation awarded Dr. Colette Bichsel fo the Vascular Biology Program at Boston Children's Hospital/Harvard Medical School a $10K Grant to support her research project.