Automated Alerts On Scientific Articles
If you are interested in receiving automated announcements of scientific articles related to SWS and separately a list of GNAQ articles, subscribe to NCBI by clicking here. To sign up for alerts, you will need to sign in (at the upper right) and then on the PubMed search page, select the link "Create Alert".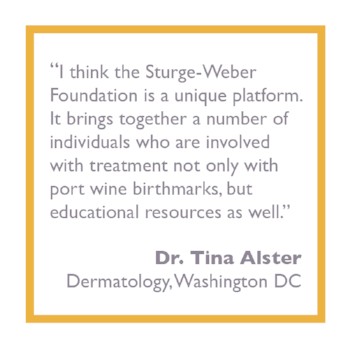 Winter Alert for Colds and Flu
Dr. Colette Bichsel Receives $10K Grant from SWF
The Sturge-Weber Foundation awarded Dr. Colette Bichsel fo the Vascular Biology Program at Boston Children's Hospital/Harvard Medical School a $10K Grant to support her research project.
The Only Recipe To Remember
I find great comfort in baking and cooking for people. I pull out the ingredients from the cupboard and fridge while from memory I measure the right amount of each part of the recipe into the bowl. I'll bet y'all have some traditional and favorite recipes you use every holiday or birthday celebration too. What's fun is to mix and match the family handed down from generation to generation recipes with those new recipes shared by friends along the way.