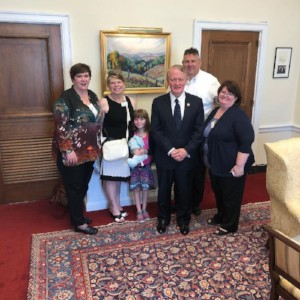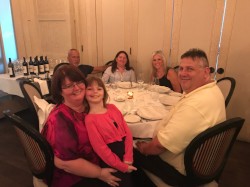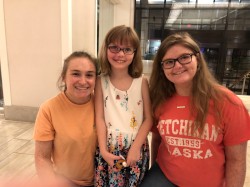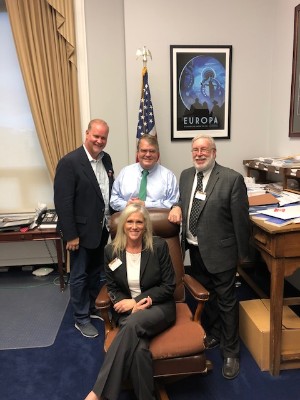 2018 AADA Legislative Conference | July 14-17 | Washington, D.C.
Advocacy from a Child's Perspective
Marissa Terrell together with her family, The Sturge-Weber Foundation, The American Academy of Dermatology Association (AADA) and Coalition of Skin Disease (CSD) set out to Washington DC to advocate on the Hill. This past year in school Marissa learned about the Federal Government, The Branches of the Government and what their responsibilities entail. It was a bit unclear for Marissa as to who does what and where in the government. On July 17th, Marissa and her family got up early boarded a bus and headed to Capitol Hill. She would meet with staff from her Senators office. She would also meet Congressmen from all over NJ. At about lunch time, she noticed that on the TV in Representative Lance's office there were all these people coming to the floor to vote on a bill. It truly was a great teaching moment when she saw on the TV just minutes earlier Rep. Lance and then he was standing in front of her. The process became much clearer what they do and why. Ironically enough it was even more important to meet someone in person like Rep Lance who is the Head of the Caucus of Rare Disease.   
We finished out the day in our own Representative office. After much talk about prescriptions and the bills that are on the floor, Marissa was pretty tuckered out and fell asleep on her Dad.   At that moment, Representative Norcross came out and sat down with us unexpectedly. We started to talk about the issues and he stopped and said how he used to love when his kids were young and would fall asleep on him and how it was so special. He was reminded that he had a meeting with someone else and he said well his job was to talk with his constituents and continued on a few moments with our conversation. We ended the session with a picture and off we went. Marissa talked about the day on the way home and again the days that followed. She is excited to do it again and to meet more people.  
The Sturge-Weber Foundation got a call three days after we were home to find out more information about our syndrome so they could help our family.   We also got an email with a letter attached and after conversations they have agreed to help us with our prescriptions by sending letters to the insurance company to see what can be done to help with a very large cost of a drug. They also mentioned that in the future if we wanted to take a tour in district they would help with that too. We can't be more grateful.  
The biggest takeaway is advocating is just so important for all of us. Our stories mean so much and when we have a need we have to tell our stories. Marissa told her story and she will be remembered by this team. Now it is your turn who is next to tell your story.
Providing the Patient and Caregiver Perspective on Capital Hill
The SWF staff is participating in advocacy for patients and caregivers this week in Washington, D.C.  Karen Ball, Brian Fisher, Susan Finnell, Julia Terrell and members Annette and Joel Couto will be providing the patient/caregiver perspective on the following asks:
Pharmaceutical Access and Affordability | Pharmacy Benefit Managers (PBMs)
PBMs are intermediaries contracted by payers to manage prescription drug plans on behalf of beneficiaries. Increased transparency in the role PBMs play in setting drug prices will allow patients, physicians, pharmacists and employers to know the true cost of prescription drugs. Consolidation of the industry and current financial arrangements must be monitored to avoid conflicts of interest:
Ask to HOUSE: Cosponsor the "Prescription Drug Price Transparency Act"
Ask to SENATE: Cosponsor the "Creating Transparency to Have Drug Rebates Unlocked"
NOTE: Currently there are 3 PMBs that control over 75% of prescription drug plans.  Although these PBMs are in place to discount drugs for patients from the manufacturers, there is no transparency or monitoring in place as to how drug prices are set.
Regulatory Relief for the Practice of Medicine (Prior Authorization)
Prior authorization and appeals policies should not unduly burden patients or physicians in accessing optimal drug therapy. The Centers for Medicare and Medicaid Services (CMS) could alleviate the burden in completing prior authorizations for medically necessary drugs in Medicare Advantage and Medicare Part D participating plans by shortening the turnaround time for decisions, encouraging plans to allow for electronic prior authorizations (ePA), and requiring detailed explanations and clinical rationale for denials and adverse determinations. 
Ask to HOUSE: Support creating a standardized electronic prior authorization form for Medicare prescription drugs.
Ask to SENATE: Cosponsor and vote for the "Electronic Prior Authorization in Medicare part D Act"