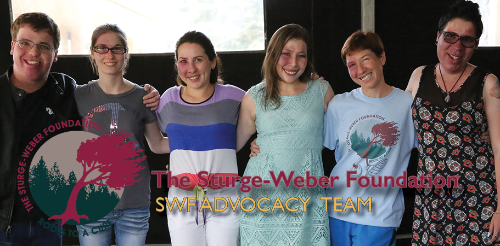 OPEN ACT: Take Action TODAY to Advance This Life-saving Legislation 
As you may already know, we are working to pass legislation called the OPEN ACT (Orphan Product Extensions Now, Accelerating Cures & Treatments) that could help double the number of affordable treatments available to rare disease patients.
As rare disease advocates, we need to make sure Congress gets our message loud and clear. 
Please CLICK HERE to send an email to your legislators asking them to co-sponsor this lifesaving legislation.
This bipartisan bill is supported by over 220 patient organizations and could bring hundreds of safe, effective, and affordable medicines to SWS patients and rare disease patients within the next several years by incentivizing drug makers to repurpose therapies for the treatment of SWS and life-threatening rare diseases. We need your help to make this bill a law.
We need more repurposed therapies to treat SWS and the other mental and medical issues related to the diagnosis. 
You may also want to ask your friends to lend their support too! We are partnering with Everyday Life to get it passed and to garner more support you can use this link: you can also link to our alert on Facebook or Twitter. We appreciate all that you do for not only SWS patients but all rare patients!
Thank you all for taking action to advance this life-saving legislation.
Sincerely,
The Sturge Weber Foundation Advocacy Team
Members of Congress are directly responsible for Federal programs that advance medical research, facilitate treatment development, and improve the quality and accessibility of healthcare. As a rare disease, it is safe to assume that lawmakers have little to no understanding of Sturge-Weber syndrome and associated conditions and the unique needs of affected individuals. The lack of information on
Capitol Hill means that valuable medical research and public health activities may overlook our community.
The best way to ensure that Congress makes decisions, laws, and policies that empower our community is to use your voice and your story to personally educate your elected officials about the condition, the community, and contemporary issues. Connecting with your Members of Congress is easier than you might think. The Foundation is here to educate, assist and support you every step of the way.
Advocacy Events and Activities
An advocate is anyone who volunteers to reach out to their elected officials, use their voice and story to educate them about the community, and ask for their assistance on key legislative and policy issues. To ensure our voice on Capitol Hill is as strong as possible, individual advocates work together as part of a nationwide grassroots network and often conduct coordinated congressional outreach at key times or in connection with certain events.  
Monthly Advocacy Call: Learn about the current issues impacting the community as well as opportunities to make a difference. The monthly advocacy call is a great opportunity to meet other advocates and to have your questions about advocacy answered. If you are interested in advocacy, please contact us for call information.
Monthly Advocacy Update: On a regular basis, the Foundation releases a written update on key issues and our efforts on Capitol Hill. These updates often include instructions on how you can contribute to advancing key issues. 
Capitol Hill Advocacy Day: Volunteer advocates travel to Washington, DC, each year for comprehensive advocacy training and meetings with their Members of Congress. This event is an outstanding opportunity to learn about the issues and build relationships with the offices of your elected officials.
Advocacy Panel at Conference: Learn about advocacy, contemporary issues, and have your questions answered.
Local Congressional Visits: Each August House Representatives and U.S. Senators return home for a prolonged period of time to connect with your constituents. This is a convenient and valuable opportunity to meet with your legislators back home. 
Letter-Writing Campaign: Throughout the year, it may be important to write your elected officials, introduce yourself as a constituent, and ask for assistance on key issues. By coordinating with the Foundation, we can ensure your personal letters are hand-delivered to the appropriate staff in your legislators' Washington, DC offices. 
provided by the AADA and the Congressional Management Foundation