HURRY!
Only 16 tickets left!  To receive a t-shirt with each ticket, registration must be received by Friday, May 7th.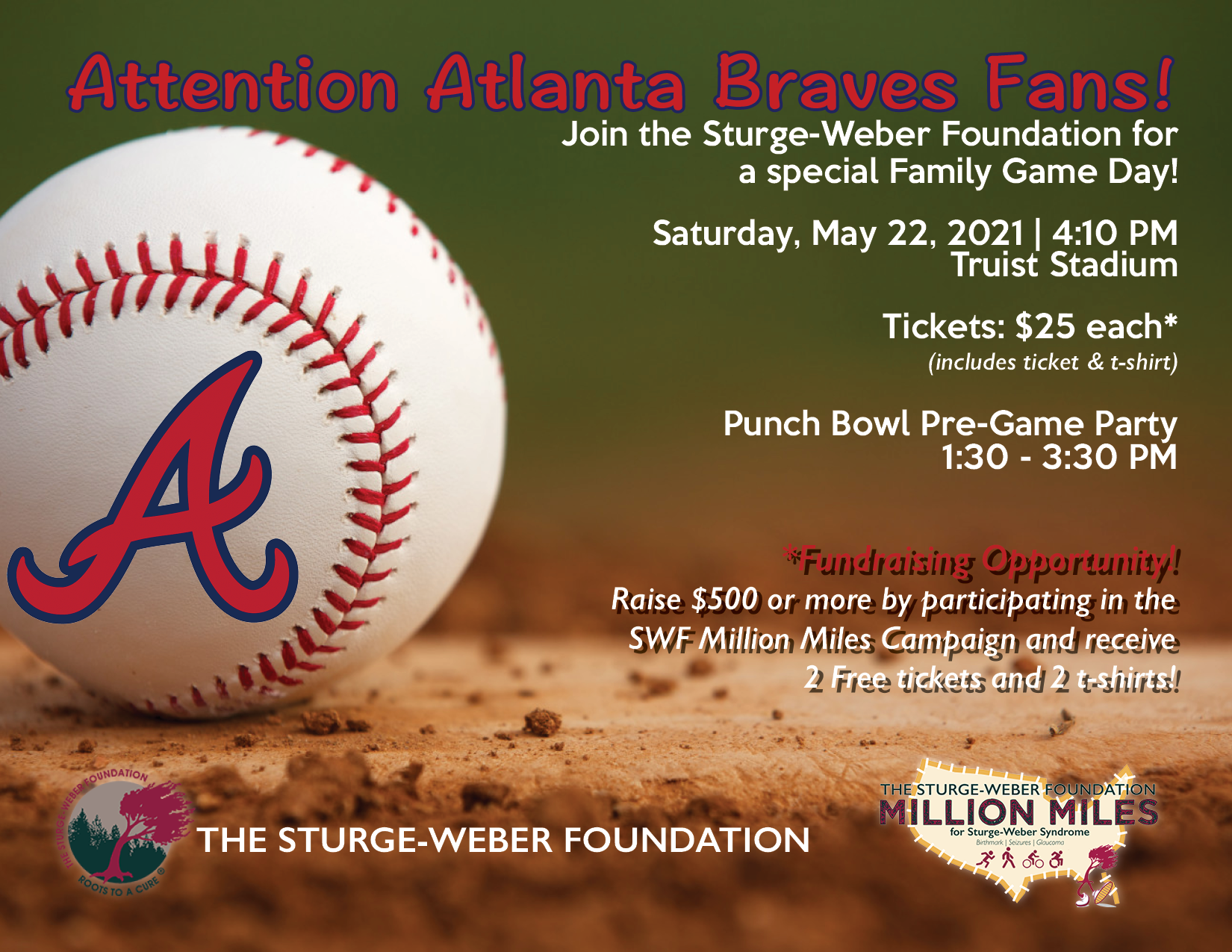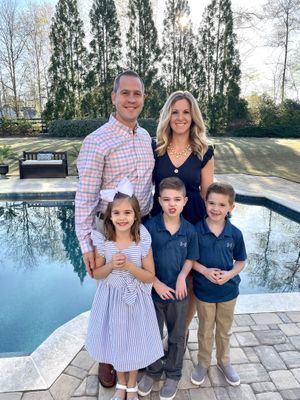 MEET OUR GAME DAY HOST FAMILY!
Chris and Dana Davis with Bryce, Cameron and Blakely
I have been married to Chris for almost 17 years. I am a pharmacist with CVS, on the city of Alpharetta's (outside Atlanta, GA) Planning Commission, on the PTO Boards for Alpharetta Elementary and Alpharetta Christian Academy, as well as on the women's leadership team at the First Baptist Church of Alpharetta. We have three children: Bryce (9), Cameron (7), and Blakely (6). My son Bryce has SWS and was diagnosed at birth. We were lucky enough to conceive Bryce by IVF. 
Bryce has controlled seizures, controlled glaucoma, five therapies a week, and multiple laser procedures each year. We feel beyond blessed for Bryce to have progressed so well over the last few years. he continues to make major achievements academically as well. We are most proud of Bryce's heart. He is a great brother and friend to all. We are so thankful that God gave him to us. Being a caregiver to a child with special needs is not always easy, but I fully trust that the Lord has big plans for Bryce! I am responsible for help him meet his potential, and HE will take care of the rest!
EVENT DETAILS:
TICKET LOCATIONS: 3rd Base Line
In the event of rain, the game will be rescheduled and refunds will be provided if the new game date can not be attended.
PARKING OPTIONS: Parking is not included in the ticket price and is on your own. Click here to obtain more information and parking passes.
Most home games in May at Truist Stadium are full capacity. Keep this in mind when considering your parking options. This particular game is Alumni Game Day.
Sidewalk parking is available, but is across the bridge from Truist Stadium.
The closest and most convenient parking lot to seating is lot closest to 3rd base.  There are elevators and escalators to seating.
Tailgating parking passes are available if you wish to attend. Tailgating begins 4 hours before the first pitch (4:10 PM).
PUNCH BOWL PARTY:  Thanks to the generosity of Davey and Kay Brown, the Sturge-Weber Foundation has reserved space at Punch Bowl for a "Before Game" Party. The Punch Bowl is located next to the Truist Stadium. Click here for details on Punch Bowl.  Ya'll Come!
SCHEDULE & ADDITIONAL THINGS TO DO ON GAME DAY:
2:10 PM - The field opens 2 hours prior to the first pitch (4:10 PM).
3:10 PM - Batting practice typically begins one hour before the first pitch (4:10 PM)
4:10 PM - First pitch of the game
There is an arcade at Truist Stadium, located near Outfield, Section 100.
If you wish to take pictures before the game, the best place to do this is in Sections 345/346.
You may also walk around Truist Stadium to the Battery (restaurants and shops). The Punch Bowl and Yardhouse are located on the opposite side of the Stadium.
PLANNING TO SPEND THE NIGHT?
Below are places to stay close to Truist Stadium:
Family Game Day - Atlanta Braves Registration