Lace up your shoelaces because we are on a Journey to reach a Million Miles!
OUR WHY: For 35 years the Foundation strives to find answers, improve medical treatments and forge opportunities in research to combat this rare disease that affects only 2% of the population. 
It is the Foundation's hope through the Million Miles Walk event to:
Raise funding for research
Team-building for our existing community of members
Raise awareness of this rare disease to the general public
Offer a healthy exercise opportunity for a cause
Grow our volunteer and donor potential
The SWF Million Miles Event had been extended through December 2022.
Create a Team, register as part of an existing team, or walk as an individual. It's all about the journey to a million miles.
---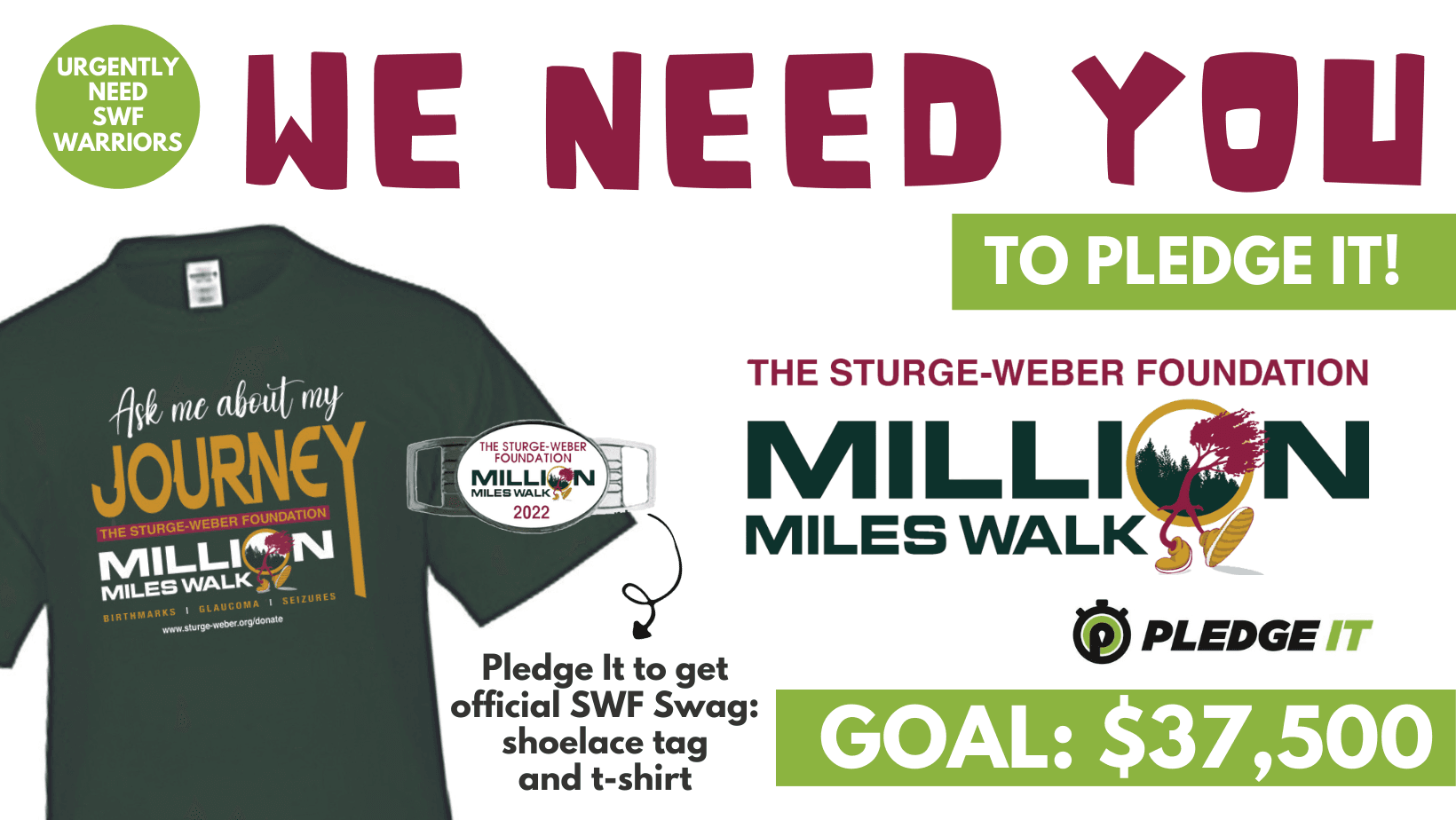 We have partnered with Pledge It to raise awareness for The Sturge-Weber Foundation to help those living with SWS, PWS, and KT.
Joining the SWF MILLION MILES WALK is super easy to do! Just go to the SWF Pledge It Page and click REGISTER. Follow the easy steps and you're ready to tell the world about SWS.
Benefits of registering with Pledge It:
1. You can create a team, join a team already registered, or walk as an individual. If you don't have a team but want to be part of a team, join SWF Webster Team (that's us)!
2. Logging your miles will help keep you accountable to the mission. It is also a great fitness motivator!
3. You can easily see the finish line. You can see exactly how much money #SWFWarriors have raised and how many miles we have walked collectively.
4. Fun Mile Marker Challenges throughout the fundraiser. We will issue fun challenges for individuals and teams to win prizes. It's a fun way to stay motivated and reach our goals at the same time.
5. You are part of our mission to help those diagnosed with SWS, PWS, and KT. All proceeds go to research of SWS and programs to enrich members' lives.
Helpful tips:
• Be sure to post photos and logged miles on your Pledge It page and on social media so we can feature you as a #SWFWarrior.
• Use the hastags: #MillionMilesWalk #SWFMillionMiles #SWFMonthofAwareness #SWFWarrior #SWFWarriorMama #sturgewebersyndrome #sturgeweberfoundation.
• Sign up and connect your Pledge It page with the fitness app Strava to easily track your progress.
• Remember your "WHY". Why are you walking, riding, or running? 
We hope you will join us on this journey of hope for Sturge-Weber syndrome. Now, let's get out there and walk (bike or run or pup walk).
---
Walk Ideas to Make it Fun:
Get the community involved (school, church, professional organization, or your company).
Ask your company about matching donations for your walk fundraiser. It's a great way to double your efforts. Make them a sponsor to give them recognition.
Host a bike and/or walk at your child's school track. Encourage decorating of the bikes. Ask participants to collect donations for each lap around the track.
Host a bake sale in conjunction with a car show and walk.
Host a "Family & Friends" picnic at a local park with fun games with a 1-mile walk, and collect donations.
Track your walking with family and friends across the country using a pedometer app. Ask them to get others to sponsor their walking with a donation per mile they walk.
Turn your walk into a pup walk. Encourage participants to dress up their pups for the walk. It's a huge win for you and the pups!
Host a BBQ in your backyard then take an evening stroll around the neighborhood. Charge a "cover charge" to your event which is a donation.
Host a Treadmill Challenge with your gym buddies.
Planning a fundraiser might sound intimidating but you can keep it super simple or go all out. It's completely up to you! Listed on the right are some ideas to get your creative juices flowing. And, you can always reach out to the SWF team with any questions you may have. Email us at swf@sturge-weber.org.
Become a Corporate Sponsor with our Million Mile Warrior Challenge
---