Team Brielle, Rhode Island, Goes to Washington D.C.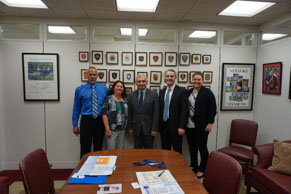 On July 14th part of Team Brielle, Rhode Island, headed to Washington D.C.  with the Sturge-Weber Foundation, CSD (Coalition for Skin Disease) and AADA (America Academy of Dermatology Association) to advocate on Capitol Hill. Brielle's grandmother Annette and grandfather Joel were invited to join other members from SWF to spread awareness of Sturge-Weber Syndrome and to bring awareness of the ever-increasing costs of medications and the lengthy time it takes to get prior authorizations for medications and other medical needs.
Annette and Joel Coutu, along with Karen Ball, Brian Fisher, Susan Finnell, Julia, Scott, and Marissa Terrell spent three days in DC attending conferences and meeting with each of their local elected officials. They were there to ask for support in a few Acts that are in front of the Senate and House. The first support that they were asking the House for was supporting legislation that requires greater transparency on the part of PBMs (Pharmacy Benefit Managers) through the "Prescription Drug Price Transparency Act" (H.R. 1316) and the Senate to cosponsor the "Creating Transparency to Have Drug Rebates Unlocked (C-Thru) Act" (S637). This would allow for patients, physicians, pharmacist, and employees to know the true cost of prescription drugs and rebates allowed to them. 
The other ASK for the House was support in creating a standardized electronic prior authorization form for Medicare prescription drugs as found in Sec 6062 of H.R. 6, the "SUPPORT for Patients & Communication Act". H.R. 6 was passed by the House on June 22 to help address the opioid crisis. Senate was asked to cosponsor and vote for the "Electronic Prior Authorization in Medicare Part D Act" (S. 2908). We asked that they keep Sec 6062 which would allow for a faster turn around on the Prior Authorizations that doctors need to fill out for medications which would allow for them to send them electronically.  
As a patient of Sturge-Weber or caretaker we all understand how frustrating it is to wait for prior authorizations for medications that are life sustaining and how at times we blame the doctors or pharmacies for the lengthy turnaround times.  After attending the conference and understanding the amount of paperwork that goes into a doctor getting authorization for medications though paper we now understand the blame is on the amount of work and repeat of paperwork. If they pass these acts in Congress and allow for electronic authorizations this time could be cut in half if not more.
We also all understand the cost of medications and their copays. How one month it is one price and the next another without any explanation.  Allowing for patients and families to know what the true cost is of the prescriptions would stop or slow down the rising prices. Annette and Joel know firsthand how copays go up and without understanding as to why. After being in DC and attending the conference it is clear that PBMs need to be held accountable by sharing the true cost of the medications and any rebates that are offered to the patient.
The Coutu's are very thankful for being asked to attend and to advocate for all our families. They plan on attending more and to help the SWS family. They will be meeting with their local elected officials to spread more awareness and to allow for the senators and representatives to meet Brielle in person this upcoming fall. If you have any questions about their experience you can reach out to them at r4kidsrule@aol.com.