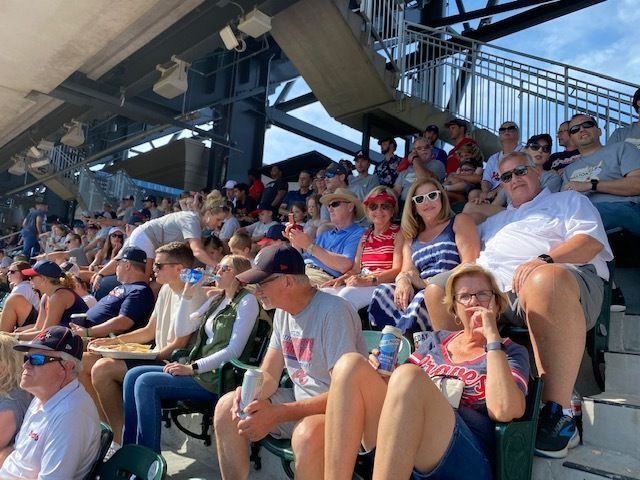 The Atlanta Braves and Pittsburg Pirates couldn't have been a better baseball game or time to meet old and new SWF Families! It was a perfect sunny, not too hot day (well, maybe for a little while), filled with sunny smiles and laughter from all the kids having a great time with one another at the pre-game Punchbowl event on Saturday, May 22nd. A special thank you to the generosity of our host family, Chris and Dana Davis and her mother, Kay Brown for hosting the pre-game event!
I always love these events where local families get together. I can see the magic happen when the sometimes tense faces begin to relax and people share not just SWS stories, but everyday parenting joys and challenges. It couldn't have been a better venue, other than the all-American baseball game! After the past crazy year, the option to mask up or not, was a welcome relief and helped everyone become closer with every smile shared.
The Parker Family from South Carolina won the autographed Braves baseball. We are so grateful for all the behind the scenes duties the Davis family handled which made for a flawless and fun filled day. If you are not that in to baseball, but would still like to connect with local Atlanta families, consider coming next year to the next Family Game Day pre-event. Either way, run don't dawdle so we can hug it out and catch up!
For me personally, it was a nostalgic afternoon, as I got to reconnect with the Davis' and meet new families. It took me back to the early days when Kathy Harnett Keffer introduced me to her world in Pittsburgh and the loads of fun family that supported her family. FAMILY - that's what it's all about and we cherish them through good times and bad. The SWF Family is like that too. I am so blessed to know all of you and for your continued support to each other and the SWF programs and research.
The SWF staff and I look forward to meeting more of you, either through on-line live events or in-person education summits so come. WE MISS YOU ALL!