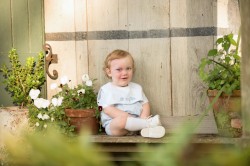 Heroes come in all shapes & sizes. Mine came in an 8lb package on March 10, 2016.
"Is that a bruise on his face? Why is his eye so puffy?" I heard my husband, Jason, say as I lay on the operating room table.
When they laid my newborn baby next to my face I could see the puffy eye and the bruising on his face but he was perfect to me. I wasn't really worried at that time. I heard one of the many people in the operating room say, "Maybe he was pressed up against her pelvic bone?"
Sounded rational to me. It would fade. It was a bruise. Right? It looked like he had been through a traumatic birth but it was a very seamless, easy C-section. There were no issues.
When they brought the baby to me to nurse for the first time I kept asking the nurses and lactation consultant, "Is this a bruise? Will it go away? Have you ever seen this?" No one could or would give me a straight answer. Instead they just wanted to me to focus on my sweet little baby. I don't think any of them had never seen a port wine stain or if they had they didn't want to be the one to tell me what it was. We asked everyone who came into our room what they thought it could be. My nurse, Beau's nurses...I even wanted to ask the Food Services people when they came to deliver my lunch. No one knew. Or if they knew they didn't want to tell us and honestly, it needed to come from the doctor anyway.
We started Googling things like "baby bruises" and "infants born with bruises on their face." My husband said that the worst thing it could be was a port wine stain but surely it wasn't that. Right? We knew a port wine stain could be indicative of other issues. That won't apply to our baby. Surely not.
When the Neonatologist came to see us she said, "Beau has a Port Wine Stain," with sympathy in her eyes. "He needs to see an Ophthalmologist, Neurologist, Radiologist & Dermatologist very soon."
What? Oh my God. That's a lot of "ologists" I thought to myself. Too many doctors.
My heart broke into a million pieces. It was a devastating blow. She reassured us that it was nothing that we could have prevented. My pregnancy was picture perfect. The c-section went so smoothly. And it was undetectable in an ultrasound.
So now we have a newborn and 3 other kids AND we have to spend some time in hospitals immediately. And I just had a major surgery myself. No problem. We are on it.
This pregnancy was a big surprise to us and now all of these issues were also a big surprise. I never once blamed myself for something I may or may not have done during my pregnancy because it was picture perfect. However, I did often ask God, "Why my baby?"
I have several friends with special needs children and have always marveled in the way that they parent their children. I never thought I could be one of them. I never felt like I could handle it as well as others. And now we had a child with "issues."
"God doesn't call the equipped. He equips the called." I kept repeating that over and over in my head. Was I ready to deal with all of this? I prayed that the Holy Spirit would give me the amour I needed to face what seemed like an uphill battle. I can and will do this with my supportive husband by my side. We will fight for our tiny little baby.
Beau's Ophthalmologist officially diagnosed him with glaucoma at 4 days old and then said the words that I feared the most. "He has Sturge-Weber Syndrome."
What? No!!
I broke down and the tears would not stop falling.
Beau had eye surgery at 3 weeks old which saved his vision but we have been battling high pressure on and off since then. There is a chance we will have to have another eye surgery at some point. He wears baby glasses (as much as we can get him to wear them) but they are actually for his good eye…not the glaucoma eye!
Beau had a round of very mild seizures at 4 ½ months old. If I had not done a lot of research or talked to other SW mamas, I would have completely missed them. In fact, when we brought him to the hospital, the nurses (who were not familiar with SW) did not think he was having seizures. He was. Mama was right. He is now on a low dose of anti-seizure meds and has not had any seizures for 10 months!
Beau is a happy baby with 3 siblings that absolutely adore him. He has no developmental delays but because SW is a progressive disorder, I am often so worried about what may happen in the next few years. We just have to just live our life though. I cried every day for months after he was born. I was praying that the tears that fell on his face as I held him would cure him of this dreaded disease. I can now find JOY in our life despite all that we have been through.
Would I take away Beau's Sturge-Weber diagnosis if I could? YES. Without a doubt. I am mad that SW stole the innocence of newborn baby bliss that I experienced 3 other times. However, it has ignited a passion in me and helped me see the good in so many people. We have been incredibly blessed by our supportive and loving family, friends, church and a community that has embraced and loved this little boy of ours with all their hearts and souls.
We can do this. We have to. It wasn't part of MY plan but it must have been a part of HIS plan. They always say that God doesn't give you more than you can handle but I think he does. He wants to see how you will react to it. It was hard to accept Beau's SW diagnosis but I have gotten used to my new reality. Beau will never remember some of the things he's been through. We pray that he won't ever have another seizure. And after 12 laser treatments, Beau's birthmark has faded and will be gone in some areas. His skin won't be perfect but it will give him character.
Beau will possess a strength I will never know. I will continue to advocate for him. He will be my hero. I will carry on with grace and faith for my Baby Beau. I will love him with every fiber of my being.