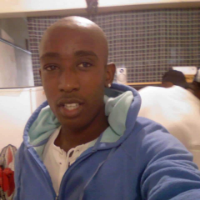 Meet Bryon
30 years old 
South Africa
I was told I had Sturge Weber in 2010 when I visited the hospital with eye problems. I had been having eye issues for about a year and they diagnosed me with glaucoma. At the time I didn't even know what Sturge Weber was and I had never heard of it. I was told it's rare for black people to have it and there are not many cases in South Africa. Up to now I have never seen anyone around with it. 
I have never had any surgeries because it has never given me any problems. The only problem was when I had to always explain to people why I have a port wine stain on my face because it looks like I was beaten up. My stain starts from the head and goes around my right eye to the nose. 
I'm not sure if I have brain involvement because I've never had any scans or any seizures. 
I am a very active person. I am a musician and also a property agent.