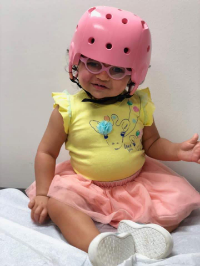 Meet Camilla 
1 1/2 years old 
Texas 
Camila was born with a port wine stain and congenital glaucoma causing her to undergo her first major surgery at 9 days old. While under anesthesia for the implantation of an adult Ahmed Shunt Valve to treat the congenital glaucoma, she Save & Closeunderwent an MRI, which confirmed the the diagnosis of SWS. 
Camila and our family have come a long way in the past 22 months. While it has been difficult and at times completely frustrating navigating the ups and downs of Sturge-Weber, Camila's smile and laugh reassure us that it is worth it. She is worth it. 
Initially sunrise meant medicine and sunset meant more medicine. In between the mornings turning into afternoons and afternoons fading into evenings, she was inundated with seizures, medicines, appointments and daily therapies. She knows no other way, no other life than this warrior life she was born into. However, Camila is so much more than a diagnosis. She is more than medicines, more than her port wine stain birthmark, more than seizures, epilepsy, more than evidence supported by literature, she is more than statistics and odds not in her favor. She is more than the multiple weekly therapies she receives, more than the orthotic devices on her legs, and much more than mamas chatting about milestones. 
We've tried different medicines at different doses and unfortunately most failed. That is until she finally received her prescription of Epidiolex. Epidiolex, is an oral formulation of purified cannabidiol (CBD) that was approved by the FDA for seizures associated with rare and severe early-onset, drug-resistant epilepsy syndromes. This is the first cannabis plant-derived medicine ever approved by the FDA and we are so incredibly, emotionally happy that Camila has been taking it now for 6 months! We have watched in awe with hope yet skepticism that this medicine would fail as the others had. 
But slowly Camila, the real Camila who had been there all along was finally breaking through. The side effects of the drugs she had been taking up to that point had our sweet baby girl in a fog, a lost space that she couldn't find her way out of. Epidiolex changed that! This medicine has been a God send for our daughter, for us, our family and has given us a quality of life. One of our greatest joys was when we finally heard Camila laugh. I'm talking real genuine, contagious laughter at 19 months! 
Camila is 6 months seizure free and learning so much everyday. She is catching up on all of her milestones. Her new found freedom from the daily cluster drop seizures has given her and us confidence and hope. Watching what James and I can only describe as Camila breaking through and showing out has been nothing short of miraculous! As T.D. Jakes said, "A set back is a setup for a comeback" It took SWS to bring us to our knees to fight our battles, and we are so thankful for answered prayers. We are excited for what the future holds for Camila, for the Sturge-Weber community and for this frustrating and unfair rare disease. 
Camila's daily dose of strength and courage is so much bigger than Camila. She is joy personified. She makes James and I better people and she is a blessing to all of those around her. 

The Werline Warriors