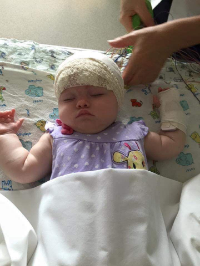 Meet Chloe
3 1/2 years old
Australia
Chloe was born with a light birthmark down the middle of her forehead. On the 25th of December 2015 she had my first ever seizure. She continued to have 14 more seizures in a 12 hour period after. On the 26th Chloe had her first ever EEG and MRI which confirmed a diagnosis of epilepsy. 
At 6 months old she had a MRI with dye which further confirmed Chloe had Sturge Weber Syndrome. She is now 3 1/2 years old and has had 4-5 different types of seizures including stroke like seizures. Her seizures are currently controlled and she is on Keppra, Frusium and aspirin. 
As a parent the struggles I have faced is trying to get her the help and assistance Chloe needs. Although she is progressing very well, she is speech delayed and isn't potty trained nor does she even recognise that she has gone 1 or 2 in her nappy. Also the emotional and financial strain has been hard but you learn to cope and plan. 
This has been a long scary road so far and I know we have a long way to go yet. But in saying that, Chloe shows me what strength is and how no matter what she goes through she always has a smile at the end. She has also taught me that I am much stronger then I ever knew I could be.