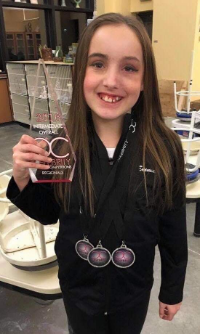 Meet Emma
14 years old
Oregon
Emma is my amazing 14 year old daughter. We live in the beautiful state of Oregon. Emma was diagnosed with Sturge-Weber Syndrome at 10 months old, after an MRI was performed before her first laser treatment. Her first focal seizure was at 13 months old. The next 4 years consisted of many seizure episodes and hospital visits. Fortunately, we were able to get them under control with the help of medication and she has now been seizure free for 9 years! 
We found that we needed to do blood work often to check medication levels, as she was growing so much those first 5 years. Emma has had a total of 18 laser treatments so far. They seem to be harder on her as she gets older. I am thankful that we did many treatments when she was younger. We have taken a three-year hiatus. Emma does not have glaucoma and thankfully her vision is good!
She is on brand Trileptal for seizure management. Each time we had to increase her dosage when she was younger, she would seem to be very grumpy and short on patience for a few weeks until her body got used to the new dose. We are actually appealing our new health insurance at the moment regarding this medication. They only want to cover 30% of her medication which means that leaves our balance about $700 every three weeks. No fun! But I refuse to switch her to generic since she's never been on the generic. I'm not willing to try it since she is doing so well right now. Dr. Comi has all of her records at the moment and she is going to do a chart review and hopefully write a letter that can help us with our insurance appeal. When she went on Trileptal in 2006 there was not a generic form of it yet. Her current neuro discussed taking her off medication but I said I wasn't ready to do that since she is going through puberty right now and wants to be driving soon. I said maybe when she was 18 she could make that choice if she wants to. However, I am very leery about that. That is one of the questions I am hoping that Dr. Comi will answer for me... is that even a possibility. I am told that she will be able to get her drivers license as long as she continues to be seizure free.
We are thankful that Emma leads a very normal teenage life. She has no delays. She found that she loved dancing at the age of 6. She has been on a competitive dance team for the last 5 years and is thriving! The stage is like her second home. I could have never imagined how much confidence that dance alone would give her. We are so very proud of her. We pray that she will remain seizure free in the coming years!