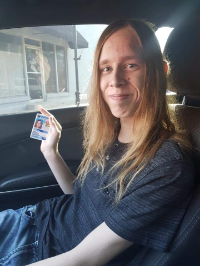 Meet Isaac  
16 years old
Oklahoma
When Isaac was born, we were told the birthmark was bruising and would go away. At 2 weeks old he was seen by a different doctor who informed us of the possibility of SWS. He set us up with a neurologist and ophthalmologist. Isaac showed no signs of SWS at first, except the birthmark. We were told if he made it to 2 years old without seizures, we would be in the clear.
Two weeks after his second birthday he was hospitalized with back to back seizures that they could not stop. He was diagnosed that week.
At age 4 he had a Trabeculectomy for his glaucoma. Trabeculectomy is a surgical procedure to relieve intraocular pressure by removing part of the eye's trabecular meshwork and adjacent structures. His eye pressure is still watched very closely for fluctuating pressure.
When Issac was younger, he struggled with the curiosity of others. He hated when people asked about his birthmark. He felt like they were making fun of him. He has always been smart, but he struggled at school with the restrictive atmosphere and social interactions. Isaac has been on an IEP most of his school life, but mostly because of behavior. The school knows me very well. I have always refused for them to treat him differently or to just pass him because the year ended. We have a great working relationship with the school now. 
Isaac has grown and progressed more than I could have ever hoped! He got off of all seizure medicine 3 years ago, and has been seizure free for 2 1/2 years!!! He passed a 48 hour EEG with zero seizure activity and now has his drivers license! He is a certified welder and is finishing up his junior year of high school. I really believe that being able to control his seizures has kept his cognitive abilities in tact. We know we are very blessed. I also know that once Isaac stopped taking the anti convulsants his whole demeanor changed. He was no longer angry all of the time. I got to meet a whole new kiddo off of the meds! He is a happy, thriving teenager. 
The Sturge Weber Foundation was one of the only places we could find any good info when Isaac was born! They are definitely a Godsend! I love to share the story of my miracle boy.
Issac is an inspiration to never let anyone or anything get in the way of your dreams! He is the toughest guy I know.