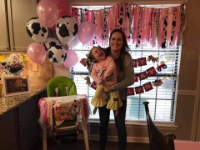 Meet Jacklyn Kate
2 Years Old
Arkansas 
Our sweet baby Jacklyn Kate was born on February 1, 2017. She was perfect! However, shortly after her birth we were told that she had what appeared to be a severe "bruise" on her face. We were told not to worry about her "bruise" because it would simply disappear in a matter of days or weeks. While in the NICU, she was placed under the phototherapy lights because her "bruise" was breaking down and causing her bilirubin levels to increase. We were discharged from the NICU on February 5. We were so excited to be home for Super Bowl Sunday! The next day we went to Jacklyn's first pediatrician appointment. Her bilirubin levels were checked and were high. We were admitted to the hospital again for phototherapy. That dang "bruise" was causing me so much stress! I just wanted to be home with my newborn baby! A day or two into our second hospital stay, I went home to grab a quick shower. My mom and dad were staying with Jacklyn. My mom called to tell me that a different pediatrician was making rounds and mentioned that she was concerned that the "bruise" was not changing or getting better. This was the first time I had heard "port wine stain" mentioned. She also talked to my parents about the possibility of an extremely rare condition called Sturge Weber Syndrome. I was numb. I headed back up to the hospital. Upon discharge, we were scheduled to see to a vascular abnormalities doctor at AR Children's Hospital. But were unable to be seen until March 13. We were still holding onto the hope that it was just a "bruise." 
On March 13, during her visit with the vascular doctor, Jacklyn was diagnosed with a port wine stain. Due to the location of the stain, we were immediately seen by an ophthalmologist. It was confirmed that she had elevated ocular pressure in both eyes. Both doctors talked extensively to us about Sturge Weber Syndrome. They explained that Sturge Weber Syndrome can cause a lot of problems…glaucoma and if she has lesions on her brain…seizures. After receiving this news, my ears were ringing and I was again numb. We were told to go home enjoy our new baby and she would be scheduled for an MRI to determine whether she had any brain involvement. She was scheduled for her MRI at the end of June. The doctors told us to watch for any changes in her behavior and especially watch for any seizure-like activity. (At the time I didn't want to hear it but I am forever grateful that these two doctors prepared us for the worst). 
On April 17, I got home from work very late. We were getting ready for bed and Jacklyn started staring off into the distance. Then it started. She began a rhythmic, ticking motion on the left side of her body. We immediately rushed to Children's. She was admitted to the neuro department and was placed on a video EEG. The video EEG revealed that she was having numerous seizures. Jacklyn was prescribed medications to control her seizures. She had an MRI and it was confirmed that she has bilateral lesions and atrophy of her brain. Thus, she was officially diagnosed with Sturge Weber Syndrome on April 19, 2017. That day will forever be etched in my mind as one of the worst days of my life. 
Jacklyn has gone on to have several more seizure clusters which always require a lengthy one to two week hospital stay. She has been diagnosed with glaucoma in both of her eyes. We have been told that it is not a matter of if she will ultimately need eye surgery but a matter of when. Luckily, we have been able to maintain her ocular pressure at safe range through the use of 2 eye drops for now. 
She has had 7 laser surgeries for her port wine stain. We try to have her laser treatments every 3 months as her stain can develop growths or ulcerations if left untreated.
Also, due to some of the lovely side effects of her medications she still has a newborn sleeping pattern and wakes up every 3 hours. Her doctors have told us that this is not a result of something that we are doing wrong or failure of sleep training on our part. This is just another cruel symptom of her disease and something she may not "grow out" of. 
Our biggest concern is seizure management. She has had several MRIs and CT scans...Her scans reveal the devastating results that both sides of her brain are calcified and atrophied. Each scan is worse than the last. Since Sturge Weber is a progressive disease, this is terrifying. 
Jacklyn is closely followed by her neurologist, vascular doctor, ophthalmologist, sleep disorder doctor, she also has a wonderful team of therapists including her physical therapist, occupational therapist, speech therapist, and developmental therapist. We consider ourselves lucky to have such a great team! 
My goal is to always be a strong advocate for Jacklyn. I also pray that we make the best, informed decisions regarding her future treatments. But most importantly, I want her to always know that we love her more than anything!