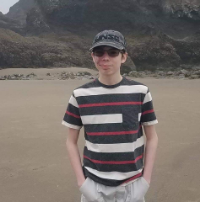 Meet Jeremiah 
18 years old 
Washington 
Jeremy was diagnosed at 6 weeks old with congenital glaucoma and at 4 months old with Sturge-Weber Syndrome. 
Jeremy had his first documented seizures at 10 months old while on vacation in Colorado. The baby picture I included is Jeremy at 10 months old and just 4 hours before his very first documented seizures. Thankfully his Aunt was an EMT and got us to the local hospital quickly. Jeremy stayed hospitalized for 5 days until he was stabilized with Tegretol on board. He's been on varying doses of Tegretol ever since. 
He has also had several eye surgeries too relieve his eye pressure. At age 14 they no longer recommended surgeries for his eye and declared him legally blind in his right eye. Thankfully he has 20/20 vision in his left eye.
Jeremy's Pile of Miles is a fundraiser we've done for several years for the SWS Foundation. We run races to raise money every May.
Jeremy has some learning delays and ADHD but he is in a regular classroom with a great IEP in place.
Jeremy loves to draw and play the card game Yu-gi-oh with his friends. He is in the gaming club at his school and is looking forward to being a senior in high school next year. We are thankful that Jeremy has been seizure free for 4 years now!
I love reading up on all of our SWS angels!