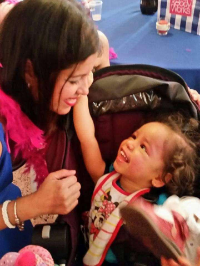 Meet Kamila 
5 years old 
Puerto Rico & Florida 
We are from Puerto Rico. Kamila was diagnosed with SW when she was only 3 months old. That was the first time that she had a seizure. Both sides of her brain are affected and she has glaucoma in both eyes. She wears glasses but is legally blind. 
When she was 1 year old, Dr. Chugani saw her in Michigan. He told us that based on the MRI and PET Scan he could not explain how she can see, try to talk by making noises or even move because the damage is so huge. Only 1/4 of her brain is functioning. She was supposed to be in vegetative state. He told me that she is an exception, and to continue with whatever we were doing! 
She is five years old and she can only say a few words like "agua" for water. She loves water! She can also say, "no no no, ma ma ma, and pa pa pa," but nothing else. She makes different noises for what she wants.
I can figure out her needs easily with her noises, but sometimes it's kind of difficult.
Kamila has been having laser treatment since she was 3 months old. Honestly I can not remember how many treatments she has had but it's a lot! I stopped last year because it is painful and I did not notice a big difference. But if I see changes in her PWS I will take her again. In the baby picture you can see that her PWS covers almost her whole face.
In Puerto Rico we had the best doctor, Dr. Marisel Vazquez who was an amazing doctor and human being! But there are no schools for these kind of special needs kids. The therapy services are also very difficult to obtain.
After Hurricane María everything was terrible and very unstable. I was afraid of an emergency with her. Because of that we moved to Florida in January 2018.
Since then, she is at UCP Osceola Campus, a school for special needs children. The facility is like a day care but for special needs children only. Instead of teachers, they have nurses. They are wonderful with her and they love her very much! We recently celebrated Kamila's 1st steps with her nurses cheering her on! 
The most difficult moments were at the hospitals. Every time she had seizures, she had status epilepticus (a single epileptic seizure lasting more than five minutes or two or more seizures within a five-minute period without the person returning to normal between them). Once she stopped breathing on our way to the hospital. I don't want to remember that. During these hospital visits she needs intubation because they need to use very high doses of meds to control the seizures.
But now, in July, we will celebrate one year seizure free!!
It was and is very hard to be far away from my country and family, but, I cannot go back because of Kamila. Here in Florida she has all the services and excellent facilities. The hospital is amazing. Sadly, in Puerto Rico she doesn't even have a school.
Kamila has an amazing older sister who is very mature for her age and she helps me a lot! Both my girls are happy and love to be together! 
Kamila is my teacher...my master in life. She taught me to be strong, to be grateful for every second, to be happy no matter what. She taught me that hope, faith, and love are the most powerful medications. I learned to enjoy life and live from a different perspective. She she is my role model.