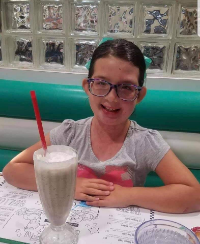 Meet Mallory
8 years old
Texas 
Mallory is 8 years old. She was born in Southern California and we now live in Central Texas. Moving to Texas recently has been amazing. In California we didn't know anyone with SWS but here in Texas we have been getting together with a few different families.
Like many other parents, the day Mallory was born we were told she had bruising. In my gut I knew it wasn't. Later that day we were told it was a PWS (Port Wine Stain). 
We found out Mallory had glaucoma when she was about a week old and she had her first eye surgery at 3 weeks old, with many more to follow. She eventually needed 7 surgeries total. The last surgery was years ago when they put a shunt in and that has been amazing! 
The seizures started when Mallory was 10 months old. She was diagnosed with Sturge Weber Syndrome a couple of weeks after her first seizure. Mallory has been hospitalized for weeks at a time because of non stop seizures which has been a struggle for us. It's hard on the whole family.
Mallory was in Special Education for a few years because of trouble reading and writing. Having glaucoma since birth has made her legally blind. School has been hard at times because of her vision loss. There have also been struggles with other kids saying mean hurtful things to Mallory, such as calling her a tomato face or telling her she looks scary. 
The joy Mallory brings to our life far outweighs the struggles. She is super silly and kind. She loves to dance and sing and is the sweetest friend to all kids. Mallory has won medals in her Special Olympic races and is now doing great in a general education class with the help of resources. 
Mallory is braver than anyone I have ever known and we love her so much.