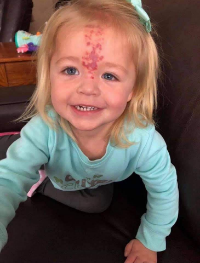 Meet Myla
2 1/2 years old
Indiana 
Our little girl was so perfect and healthy when she was born but we did wonder what that birth mark was. We were told "Oh it's just a birthmark. It will go away with time. You'll never know it was there by the time she is one." We went on with our lives and took our bundle of joy home. 
Time went on and Myla was developing normally for her age. Myla was such a calm baby. Nothing seemed to get her upset. Little did we know our sweet little girl was going to go through things that we could never imagine for a 7 month old.
One Friday night I put her in her crib and she went right to sleep like normal. A couple of hours later we had a super fussy baby that was screaming out of control and we could not get her calmed down. At this point I decided to hold her and try to get her to fall asleep. We both ended up falling asleep in the chair. I was so happy this had happened as I woke up an hour or so later to her whole left side twitching. I immediately woke my husband up. We could not figure out why. Maybe if we lay her down she will quit? Nope. 
We took her straight to the ER. After about 45 minutes of seizing she had come back to us. The next thing we knew, we are being sent to Riley Children's Hospital in Indianapolis for further testing as there was calcification found on her brain. 
What does that mean? Our baby is perfectly healthy. Why are we not getting a straight answer? First calcification on the brain and next being told one side of the brain is smaller than the other. Our world was being ripped apart. Our baby was being tested every second possible. Finally we get a diagnosis after about 15-20 more seizures. "Sturge-Weber Syndrome" they told us and started throwing all these papers at us telling us how rare it is and what specialist we should see. At this point we are just in shock. We have no questions because we went from an unbelievably healthy baby to one that will have so many doctors appointments and an unpredictable future! We were at Riley for another 4-5 days after this trying to get a good seizure medicine regimen together as it was very difficult at first with many not working and many many more seizures! We went home on two seizure meds and aspirin. 
From then on we have had our ups and our downs. When she is healthy and going strong she does great. But even when she is having her seizures she fights so hard through them and does not let them keep her down. She is so much stronger than we will ever be and she is so young. She is almost 3 years old. 
The longest we have been seizure free is about 3-4 months and that was awhile ago. Our streak now has been two months but we are praying to get so much longer now! At this point, we have changed to Cincinnati Children's Hospital children's who are affiliated with the Sturge-Weber Clinical Care Network. They have been amazing for Myla. She has had 7 laser treatments and we have stopped as we feel as though they cannot help or hurt her at this time. As for glaucoma, there has been no sign and we are crossing our fingers it stays that way! She is now on three seizure medications, on aspirin, and another medication to help with behavior from side effects from medications. For her care team, she sees a neurologist, neurosurgeon, hematologist, dermatologist, ophthalmologist, physical therapist, occupational therapist, and a speech therapist. We are so thankful for all of them! 
From here on out we have been saying big prayers that her medicine regimen will work as she has been on many different ones. If it does not work and she keeps having the same amount of seizures as she has been, we are not sure of the route our doctors will take from here. 
We are so happy we came into contact with the Sturge- Weber Foundation as well as other families that have experienced similar situations as ours. It's great to have this community surrounding us! Like I said earlier, Myla is so much stronger than we will ever be. Sturge-Weber is most definitely a journey we did not plan, but we sure are happy he chose Myla as our tour guide. We will let her take our hand and take us where ever she needs to go! We love our girl!