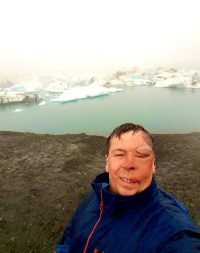 Meet Robbie 
53 years old 
Illinois 
My name is Robert Shelnut. I am 53 years old, and have Sturge Weber Syndrome. I currently live in Illinois. 
I was diagnosed with SWS when I was a child. I have had many ups and downs throughout this life. Being ridiculed, taunted, and beaten up for something I didn't have any control over. But with all the fear you build strength. 
I didn't start having seizures until the late 90s when I was 36 years old. They started after a mountain bike crash in North Carolina. I'm still on meds today. I have gone blind in my left eye. I realized I was blind the day John Lennon got shot. 
I didn't struggle in school. It's hard to say how my parents handled my disease since I was so young. My father passed when I was a child. But I do know that they loved me. I was picked on until the 3rd grade. My grandfather got tired of it and taught me to defend myself. Pretty much stand my ground. From there it felt like it stopped. I have awesome family.
I am married now and have 2 children. 
I know Sturge Weber can be tough on others also since they have never dealt with the situation before. At 53 I am always asked what happened. I would let it get to me long ago. But there came a point that was not the way. So I would talk and explain the best that I could. Always seems to work better.
I have never had laser treatment but I did do skin grafting in New Orleans at Ochsner Hospital. I was around seven years old for the first surgery. I am glad I did it. It pretty much signified who I am. It was successful in some ways. The surgery was not complete because of financial difficulties. I can get angry that it's not done. But I sort it out and take the best of what the Lord has given me.
One struggle I have faced is myself. To let another person bring you down, just because of what I looked like wasn't going to happen. And I will never forget my family and friends who kept my inner strength so strong.