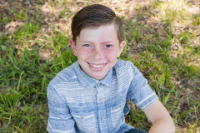 Meet Ryder 
12 years old
Missouri 
After a very scary and confusing first month and a half, Ryder was diagnosed with SWS by his Dermatologist and Klippel Trenaunay about 2 years later. Tiny and helpless he was still perfect to us. Being a first time mom was hard enough without the constant worry and not knowing what caused his condition was even harder. 
Thankfully Ryder has never had any seizures. He wears glasses but no vision loss as of yet. He does have cataracts forming which is his latest issue but we are tryin to stay on top of it. He has delays and has never had any laser treatments. His PWS is fairly light depending on the temperatures or what he is doing. It is also head to toe - from the top of his melon to the bottoms of his feet.
Glaucoma was his main affliction and caused him to have a number of surgeries at a very young age. As a parent there is nothing more heartbreaking than watching them suffer without the ability to take it all away. 
Thankfully at the age of ten our pediatric ophthalmologist sent us by the way of an adult glaucoma specialist who would greatly affect his outcome. Two years ago he had a surgery where they implanted the second prosthetic tube/shunt. That has, by the grace of God, kept his pressure under control ever since. 
Sturge Weber can be scary. We live life sometimes forgetting and then sometimes we get smacked in the face with fear. We are not promised that he will never have seizures and that terrifies me. It also makes me feel guilty because I know there are other parents that seizures are a reality for. It is a weird mental game for sure but I have found that connecting with other moms that get it absolutely helps! 
At 12 our son continues to make us proud with his huge heart and academic abilities. He loves basketball, baseball, and yes the dreaded Fortnite. His diagnosis have never been easy but also does not define him. We are incredibly proud to be his parents