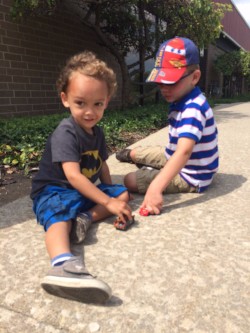 Silas was diagnosed with Sturge-Weber Syndrome on May 8, 2013, the same day researchers announced the discovery of the gene mutation that causes SWS. He was 11 months and we had never even heard of SWS prior to his seizure a month earlier. He has a very faint PWS on his forehead that we were told was a stork bite and would likely fade with age.  While you can often never really understand why some things happen in life, his diagnosis, on this day felt very much like a calling for us to become active members in the Sturge-Weber community.  My husband serves on the board of the Foundation and I am Chairperson of the Patient Engagement Network.  
After a four year truce with Sturge-Weber, this August/September Silas spent three weeks in the hospital as his seizure activity returned and was very difficult to manage. Six weeks later he is back in Kindergarten, making friends, keeping pace with his twin sister Celia, and dancing, laughing, singing and playing his way through his days.  He is so loving and social...we always joke that Silas is going to be homecoming king because he has this personality that immediately draws everyone around him in. There is not a day that passes that we don't look at him in awe of all he's accomplished despite this diagnosis, which brought us so much uncertainty 4 years ago.  Living with Sturge-Weber is a roller coaster ride that families living with the condition would never choose to ride, but that bonds them to each other in a special way.  While the worry never goes away, we are very blessed to have this happy, loving boy in our lives and will continue to push for advancement in research and care for our little guy and all those affected with SWS.
Read more about Silas' story and one of SWF's Clinical Care Network centers in Illinois - The Lurie Children's Hospital.