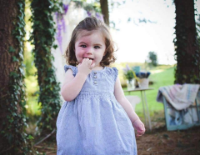 Meet Summer 
23 months old 
Tennessee
Summer was diagnosed at 3 1/2 weeks old due to glaucoma. When Summer was first born she had already been through a difficult time with delivery. She was 8lbs 13 oz and became stuck on the way out so the physician had to break her left arm to get her out. Once she was born the doctors said it was just bruising and that she didn't have SWS and that it would get better. Her ophthalmologist is actually the one who diagnosed her due to her climbing pressure in her right eye, the affected PWS side. 
The overwhelming amount of information was difficult at first. I cried most days. But through it we became stronger. I became stronger. She was on 5 eye drops at one point. With 7-9 administrations a day. With that her pressure was still climbing and at a high of 48 they made the call to schedule her surgery. 
She had her first eye surgery at Duke by Dr. Freedman at 7 weeks old and had two more following that. She now has the Baerveldt implant and thankfully her pressures are sustaining currently 
Once she was diagnosed we started researching as much as possible. We knew seizures were a possibility so had prepared a plan in the event that one did occur. Sure enough at 3 1/2 months old she had her first seizure. She has been through multiple MRIs and CT scans showing atrophy on the right side of her brain. The last scans thankfully showed stability so we are praying she is leveling out. She has had multiple episodes since her initial seizure and her last one was at the beginning of March. She currently takes Keppra and Trileptal. She is in PT/OT and ST and continually amazes us. 
The struggles we have faced lead to the joy. Any parent who watches their child go through painful procedures and surgeries along with seizures would cause enough worry and struggles for a lifetime, but as I said those lead to joy as well. Joy in that my baby is still alive. Joy that she is able to walk and play. Joy that she is beginning to speak and communicate with us. Joy in that she was able to regain most of her abilities after her last seizure which was her worst to date lasting 47 minutes. Joy in that I am so incredibly blessed to be a proud momma of an amazing fighter. And most importantly, Joy for a good day  I've never been so thankful for anything else than for my baby girl to be healthy and as independent as a soon to be 2 year old should be. We are blessed to be her parents and have a whole new perspective on life and what the true beauty of this life can bring. I wouldn't trade it for anything and know God has placed us in this life and role for a reason and joy is what our reward is