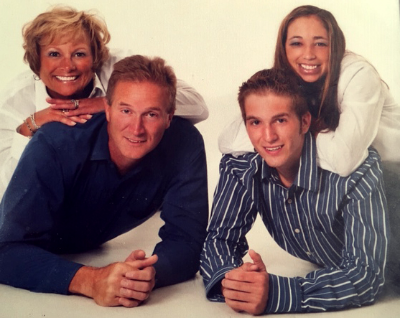 MEET THE HOOVER FAMILY!
2019 SWF CONFERENCE HOST FAMILY
For every SWF Family Conference, there is a host family that comes along beside us and helps us coordinate activities, find volunteers, make deliveries, accept deliveries . . . the list goes on.  For the 2019 SWF Conference , the Hoover family has stepped up to be that "helping hand" for us.  Below is their story and how they became involved with SWF.
 
We welcomed our first child, Nicole, on April 25, 1990. Nicole was born with extensive red marks on both sides of her face, head and neck.  Initially we were told that those marks were bruises from delivery, however, our pediatrician broke the news to us the next day that those 'marks' were not bruises, but evidence of a port wine stain.  The port wine stain could indicate other serious problems which may be Sturge Weber Syndrome (SWS).
This period of time was pre-internet and social media days, so our pediatrician copied information out of a book and gave it to us to read. He also recommended that we contact an ophthalmologist and perhaps a dermatologist.  The ophthalmologist began to follow Nicole and we took her for her first laser treatment at about 6 months old.  Her first few laser treatments were done at Jefferson in Philadelphia by Dr. Rabinowitz.  Then we continued treatment by Dr. Tina Alster in Washington, D.C. who Nicole continues to see today.
Nicole developed somewhat slower that she should for her age and then at the age of six months had her first seizure.  We cannot recall how but we were given a contact (land line of course) of a woman in Colorado. That would be the one and only, Karen Ball. We gave her a call and were introduced to the world of SWS.
We battled Nicole's seizures for the next two years.  She was put on several different medications, but the seizures seemed to be uncontrollable. She spent weeks at the hospital only to be sent home for short periods then back to the hospital. We were sent to Johns Hopkins where we met Drs. Freeman and Vining.  Nicole became a candidate for a hemispherectomy.  When weaned off her medications during a week-long study in preparation for the surgery at Hopkins the seizures stopped.  So the surgery was cancelled.
Eventually the seizures were controlled with three different anti-convulsant medicines.  Additionally, we found that seizures were triggered every time she had an ear infection which was frequent.  We had tubes placed in her ears and that also helped control her seizures.
Around the age of two, Nicole had surgery on both eyes to reduce the pressure caused by her glaucoma.  She had no issues with her eyes until about 8 years ago when the pressure started elevating.  She now uses 4 different drops to control the pressure in her eyes. The seizures became "managed" for several years, in fact, Nicole was seizure free for many years.  She began having seizures again about 8 or 9 years ago and we changed two of her anti-convulsant medications.  Nicole was then seizure free again.  In the last two years she has had approximately eight seizures per year.  She sometimes knows in advance when she is going to seize and she sometimes talks during the episode.    She has had a seizure and then played Special Olympics soccer within minutes! 
Nicole also had several valves inserted into her heart when she was ten years old.  She has had no issues from that procedure since then.
Nicole continues to live with her parents, her younger brother and the family dog. She also is very close with her Godmother, Donna Lark.  Nicole was in a Lifeskills class through school.  She has worked since, finishing school most recently starting a new job at Marshall's department store which she really enjoys. She still participates in Special Olympics:  soccer, floor hockey, bowling and track/field.  She also played Challenger baseball for 15 years. While we have been faced with many challenges over the years with Nicole and SWS, the support provided by the Sturge-Weber Foundation has been a true miracle and we feel very blessed and prepared for whatever the future holds.