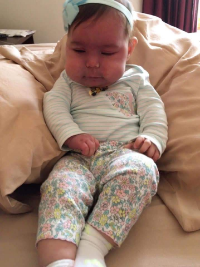 Meet Violeta 
6 months old 
Michigan 
Violeta was diagnosed with Sturge-Weber at just 4 days old. She has glaucoma and a port wine stain that covers her entire face/head, her arm, both her hands, neck and a spot on her back. It has been hard not knowing when she will have another seizure and how long she'll go without. s everything better.
Violeta started having seizures at 2 months old. She had already been on Keppra as a preventative measure but it was not enough. She had 5 seizures in 3 days. After her meds were figured out she was seizure free for 3 months and 18 days. On April 18th she had another round of seizures due to her being sick. We spent an entire week at Helen DeVos children's Hospital in Grand Rapids, MI. 
She is currently having laser treatments done to help remove the port wine stain on her face. We have had amazing results with just 2 procedures. 
We do have an amazing neurologist. Dr. Hernandez is wonderful and really takes our concerns and feelings into consideration for her care plan. Before our daughter was born, we had never heard of Sturge-Weber Syndrome. I have seen port wine stains on people before but never knew it was more than just a birthmark.
The uncertainty of her development is very heart wrenching, but everyday is a new day and she is the piece that makes our family whole. When we see her smile or laugh at little things it makes everything better.