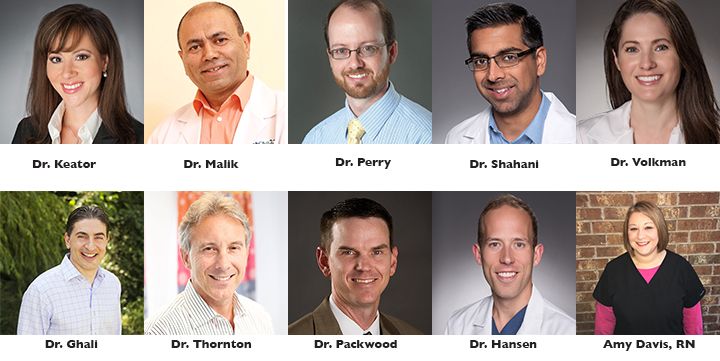 Physical Address
1500 Cooper St  | Fourth Floor 
Fort Worth, TX  76104
(682) 885-2500
www.cookchildrens.org
Cook Children's Neuropsychology Dept - (682) 885-7450 | Dawn Melman (scheduling/insurance pre-cert)
Cook Children's Behavioral Health Dept Intake Line - (682) 885-3917
Cook Children's Endocrinology Dept -  (682) 885-7960
Medical Professionals
Cynthia Keator, MD
Medical Director, Epilepsy Monitoring Unit | Neurology
Cynthia Keator, M.D., has dedicated her career to the field of pediatric epilepsy, in part because there is always something new to learn, and especially because great strides are constantly being made in the medical treatments available to kids who are diagnosed with this condition. These advances make profound differences in the lives of children and their families. On a daily basis, Dr. Keator witnesses children outgrow the condition, go into remission or find effective treatment. Read More . . .

Saleem Malik, MD
Medical Director, Comprehensive Epilepsy Program | Neurology
I have been practicing child neurology/epilepsy for over 20 years, and still, the best part of my job is that every day I get to meet amazing kids. Even before medical school I knew I would practice pediatric medicine. Read More . . .

M. Scott Perry, MD
Medical Director, Neurology; Co-Director, Jane and John Justin Neurosciences Center; Medical Director, Genetic Epilepsy Clinic | Neurology
I joined the Neurosciences Program of Cook Children's in 2009 as a pediatric epileptologist, then served as the Medical Director of the Epilepsy Monitoring Unit and Tuberous Sclerosis Complex clinic before assuming the role of Medical Director of Neurology in 2016. My clinical and research interests focus on the treatment of childhood onset epilepsy, specifically those patients with uncontrolled epilepsy or those for which the cause has not been determined. I have an intense interest in the use of surgical therapies to treat and cure epilepsy.  Read More . . .

Dave Shahani, MD, Neurology
As a native North Texan, Dr. Dave Shahani has been itching to return to DFW and has proudly found his home at Cook Children's. His journey home took him near and far. He completed his undergraduate training at the University of North Texas and Austin College followed by his medical school education at the University of Texas Health Science Center in San Antonio. He completed his residency in Child Neurology at the University of New Mexico where he remains a volunteer faculty to continue his passion for education while serving as medical director for Camp Rising Sun, a summer camp for children with autism. Read More

Heather Volkman, DO, Dermatology
Dr. Volkman is a board-certified dermatologist with the American Osteopathic College of Dermatology and cares for both pediatric and adult patients with skin diseases, skin cancers, and skin care needs. Her special interests are in autoimmune diseases, geno-dermatoses, and inflammatory dermatoses, such as psoriasis and eczema. Dr. Volkman has been serving as a consulting dermatologist for Cook Children's Medical Center and Texas Health Harris Methodist Hospital of Fort Worth for over 9 years, and volunteers for Tarrant County Medical Society's Project Access. Read More

Dr. Fred Ghali, MD
Dr. Ghali has practiced Pediatric Dermatology for over 15 years. In 2001, Dr. Ghali founded Pediatric Dermatology of North Texas, PA, a private practice clinic providing dermatologic care exclusively for pediatric and adolescent patients. In 2014, Dr. Ghali expanded the practice to include a Frisco location. Currently, Dr. Ghali serves as Clinical Assistant Professor of Dermatology at both UT Southwestern Medical School in Dallas as well as Baylor Medical Dept. of Dermatology in Dallas. He invests much of his time educating dermatology residents in Pediatric Dermatology. Read More

Paul Thornton, MB, BCh, MRCPI, DCh, Medical Director, Endocrine and Diabetes Program | Endocrinology
As the director of Cook Children's Endocrinology department, I have focused my energy on running the Congenital Hyperinsulinism Center and participating in the congenital adrenal hyperplasia, differences of sexual differentiation and Silver Russel clinics. I continue to see a few of my patients with general endocrine disorders that I have treated over the last 13-15 years so I can help transition them to adulthood. Read More

Eric A. Packwood, MD
Partner, Pediatric Eye Specialists | President, Child Vision Center | Administrative Director of Ophthalmology, Cook Children's Medical Center
Dr. Packwood treats all pediatric eye disorders and adults with misaligned eyes (strabismus). He is highly experienced in the treatment of childhood strabismus, amblyopia, trauma, cataracts, glaucoma, retinopathy of prematurity, and ptosis. Read More

Daniel Hansen, MD, Neurosurgery
Dr. Hansen sees and treats children for the whole range of pediatric neurosurgical issues, but has special interests in minimally invasive surgery, endoscopic surgery, tumors and epilepsy. He works closely with the NeuroOncology and Epilepsy teams to provide cutting edge, patient centered treatment using the most up-to-date information and treatment options. Read More