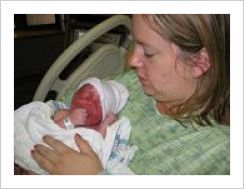 Welcome! Whether you or your child has been newly diagnosed with SWS or KT, or if he/she was born with a port wine birthmark and your doctor has mentioned the possibility of having one of these syndromes, the information contained here will be a basic introduction on what to watch for and your possible course of action.
As you search for information and answers, you will undoubtedly encounter many opinions and information that may be overwhelming. We remind you that the manifestations vary greatly with each case, and caution you to keep this in mind as you begin your search for answers.

What is Sturge-Weber Syndrome?
Sturge-Weber syndrome (SWS) (encephalotrigeminal angiomatosis) is a congenital, non-familial disorder caused by the GNAQ gene mutation.  It is characterized by a congenital facial birthmark and neurological abnormalities. Other symptoms associated with Sturge-Weber can include eye, endocrine, and organ irregularities, as well as developmental disabilities. Each case of Sturge-Weber syndrome is unique and exhibits the characterizing findings to varying degrees.

What are the statistics?
SWS has no clear genetic pattern, and two affected individuals almost never arise in the same family. The syndrome presents in all races and with equal frequency in both sexes. Port wine birthmarks occur in 3 of 1000 newborns.

In a patient with a facial port-wine birthmark, the overall risk of having SWS is only about 8% to 15%. The risk of having SWS increases to 25% when half of the face, including the ophthalmic division of the trigeminal nerve, is involved and rises to 33% when both sides of the face, including the ophthalmic division of the trigeminal nerve, are involved.

Seizures occur in 72% to 80% of SWS patients with unilateral brain lesions and in 93% of patients with bihemispheric involvement. Seizures can begin anytime from birth to adulthood, but 75% of those with seizures begin having them during the first year of infancy, 86% by age 2, and 95% before age 5.

Glaucoma occurs in 30% to 71% of patients.

What is Klippel-Trenaunay syndrome?
Klippel-Trenaunay syndrome (congenital dysplastic angiopathy) is a congenital vascular disorder of unknown cause. Klippel-Trenaunay (KT) is characterized by a triad of symptoms: Port Wine Birthmark (capillary malformation) covering one or more limbs, congenital vascular anomalies, usually venous varicosities, absence or duplication of a venous structure, malformation and hypertrophy (enlargement of the limb) or atrophy (withering or smaller limb). KT involves the lower limbs in approximately 90% of the cases.

Things to watch for:
Eye - The eye may appear to be bulging, watering, cloudy, or enlarged, especially in the eye with PWB involvement.

Seizures - There are many types of seizures, and children with SWS may present with more than one type. The seizure threshold may be lowered by cutting teeth, immunizations, illness, etc. 

Port-Wine Birthmark (also called Port-Wine Stain PWS) - "Angel kisses" (spots over or between eyes) and "stork bites" (back of neck) is normal and will fade in time. A port-wine birthmark, while it may lighten or darken will not completely disappear.

Testing/Obtaining Diagnosis
Eye - All newborn babies with a port wine mark affecting the eyelids and/or brain involvement should see an ophthalmologist in the first few weeks of life. Children with port-wine birthmarks involving lids may be at life-long risk of glaucoma and require periodic eye examination, often under anesthesia or sedation in the first years of life until able to be awake for testing.

Brain - MRI with contrast, however, be advised that due to the progressive nature of SWS, brain involvement may not be evident on early scans.

An MRI of the brain with and without gadolinium enhancement is recommended for visualization of the leptomeningeal angioma. Early in infancy, the abnormal blood vessels on the surface of the brain may not be seen even by MRI. If the initial MRI is normal, it can be repeated at 2-3 years of life to exclude the presence of a leptomeningeal angioma.

Brain calcification is most easily seen with a head CT but this is not usually an early finding. Other typical findings on brain imaging include brain atrophy (decreased brain mass) and enlarged deep draining veins on the affected side. Angiography is NOT routinely performed in the evaluation of children with SWS, but may be required in atypical cases to evaluate for other associated vascular malformations. PET and SPECT imaging is not routinely indicated except when surgery for seizures is being considered. If seizures occur, then an electroencephalogram (EEG) is obtained to evaluate brain function and seizure foci.

Treatment
Port Wine Birthmark (PWB) - Vascular-specific laser treatment may lighten the color and decrease the size of port wine birthmarks, but complete resolution is possible in only a minority of cases at this time. Treatment can be started as early as one week of age, depending on doctor recommendations & parents' preferences. The earlier a child begins laser treatments, the more effective they will be. Treatments can be done every 6 to 8 weeks, however, the number of treatments needed or the percentage of clearing depends on the stain itself and varies greatly. The type of anesthesia used (topical or general) will be based on the preference of the family and physician.

Seizures - When a child presents with a new-onset seizure, a neurologic consultation should be sought. Routine studies including blood glucose, electrolytes, serum calcium, magnesium, and CBC should be obtained to evaluate for precipitating factors. EEG and neuroimaging studies such as CT or MRI scans of the brain should also be obtained. An aggressive antiepileptic regimen should be established from the first seizure.

Glaucoma - Medications should be initiated as first-line treatment for glaucoma, and multiple medications in combinations may be necessary to lower the intraocular pressure.
For online Sturge-Weber Foundation printable brochures, click here.