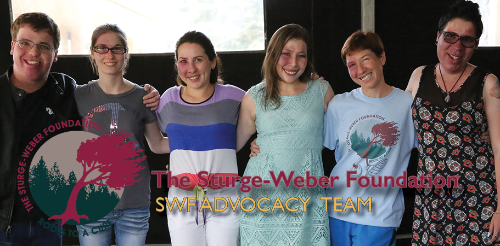 ACTION NEEDED BEFORE JULY 10, 2023: Ask the House committee to include the Safe Step Act in their health policy markup in July. Get your toolkit below.
Thanks to your advocacy, the Senate HELP Committee included the Safe Step Act in its PBM reform package with a NEARLY UNANIMOUS vote of 20-1 during its markup in May. 
S 652/HR 2630, the Safe Step Act, would ensure that employer plans/PBMs offer an expedient and medically reasonable step therapy exceptions process. This will empower individuals to navigate their insurance and help them access the treatments they need in time. 
The work is not done yet! Will you join us in encouraging the House committee – the Education & Workforce Committee – to also include the Safe Step Act in their health policy markup in July?
Join us by choosing one, two, or three of the activities included in the free toolkit below before July 10, 2023.
---
The Sturge-Weber Foundation is Committed to Advocacy.
Members of Congress are directly responsible for Federal programs that advance medical research, facilitate treatment development, and improve the quality and accessibility of healthcare. As a rare disease, it is safe to assume that lawmakers have little to no understanding of Sturge-Weber syndrome and associated conditions and the unique needs of affected individuals. The lack of information on Capitol Hill means that valuable medical research and public health activities may overlook our community.
The best way to ensure that Congress makes decisions, laws, and policies that empower our community is to use your voice and your story to personally educate your elected officials about the condition, the community, and contemporary issues. Connecting with your Members of Congress is easier than you might think. The Foundation is here to educate, assist and support you every step of the way.
World Orphan Drug Congress
The World Orphan Drug Congress brings together leading pharmaceutical and biotech companies, government and regulatory authorities, patient advocacy groups, payers, investors, and solution providers. The conference is a place to meet and brainstorm ways to advance orphan drug development and improve access to life-saving therapies.
ARVO
The ARVO Annual Meeting is the premier gathering for eye and vision scientists at all career stages, students, and those in affiliated fields to share the latest research findings and collaborate on innovative solutions. 
Monthly Advocacy Update
On a regular basis, the Foundation releases a written update on key issues and our efforts on Capitol Hill. These updates often include instructions on how you can contribute to advancing key issues. 
Capitol Hill Advocacy Day
Volunteer advocates travel to Washington, DC, each year for comprehensive advocacy training and meetings with their Members of Congress. This event is an outstanding opportunity to learn about the issues and build relationships with the offices of your elected officials.
Dr. Kristen Kelly, Dermatology, California

"The Foundation advocates for the patients both on a national level at Congress and then throughout a variety of other funding agencies."