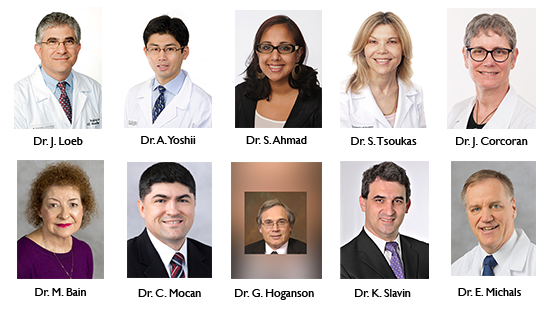 Physical Address
1740 West Taylor Street
Chicago, IL 60612
Website
Hospital Website

Jeffery Loeb, Adult Neurology 
Dr. Loeb is the head of the Department of Neurology and Rehabilitation. His major subspecialty interest is in epilepsy. He is a pioneer in developing new treatments, not only for epilepsy but for other brain disorders. He has long-standing research interests in many diseases including epilepsy, MS, neuromuscular diseases such as ALS, and cancer. He has published many important research articles and is funded for his research programs by the National Institutes of Health, many private foundations, and local donors. Dr. Loeb is also the John S Garvin Endowed Chair in Neurology.
Akira Yoshii, Pediatric Neurology
Dr. Akira Yoshii's clinical interests include the treatment of children with brain, nerve, and muscle diseases. These include Neurogenic disorders (especially, tuberous sclerosis complex, neurofibromatosis, and other neurocutaneous syndromes, neuronal ceroid lipofuscinosis, and other lysosomal disorders), and epilepsy.
Saba Ahmad, Pediatric Neurology 
Dr. Saba Ahmad is an assistant professor of clinical pediatrics in the Department of Neurology at UI Health. She graduated from the Washington University School of Medicine in St. Louis. She was an intern in Pediatrics at the Children's Hospital of Philadelphia, a resident in Neurology at the Hospital of the University of Pennsylvania/Children's Hospital of Philadelphia, and a fellow in Clinical Neurophysiology at the Children's Hospital of Philadelphia. Her clinical interests include epilepsy and neurogenetics/neurometabolic diseases. Her research interests include epilepsy and genetics. She is particularly interested in epilepsy management, with a focus on dietary epilepsy management and on surgical epilepsy management.
Maria Tsoukas, Adult Dermatology 
Dr. Maria Tsoukas is the head of the Department of Dermatology at UI Health. Dr. Tsoukas specializes in the diagnosis, management, and treatment of patients who are at high risk for skin cancer and those with chronic immunosuppression or autoimmune diseases. She has a strong focus on non-invasive field therapies, photodynamic therapy, and skin laser therapy to treat benign and malignant skin conditions, and her clinical interests also include noninvasive skin rejuvenation using injectable botulinum toxin and fillers. Dr. Tsoukas' research focuses on photobiology/photodynamic therapy; laser tissue interactions and drug delivery; field cancerization therapies; and tissue repair. Dr. Tsoukas also serves as the Associate Head of Education Affairs and Residency Program Director in the Department of Dermatology.

Michelle Bain, Pediatric Dermatology 
Dr. Michelle Bain is the director of pediatric skin diseases at UI Health. Dr. Bain has special expertise in atopic dermatitis, acne vulgaris, moles, birthmarks, alopecia, vitiligo, and warts. She has been practicing dermatology for more than 30 years.

Julia Corcoran, Craniofacial 
Dr. Julia Corcoran practices in the Division of Plastic, Reconstructive, and Cosmetic Surgery at UI Health, where she focuses on the reconstructive needs of infants, children, adolescents, and young adults up to age 25. As part of the Cleft Team at the Craniofacial Center, Dr. Corcoran cares for patients and families on their journeys with cleft lip and palate, from birth to facial maturity in the early 20s. She also works with adolescents and young adults in the realm of chest reconstruction, including asymmetric breasts, oversized breasts (female macromastia and male gynecomastia), and Top surgery. Dr. Corcoran provides a full range of pediatric reconstructive services, including care for birthmarks, vascular lesions, prominent ears, trauma, burns, and scarring. She is a Fellow of the American College of Surgeons and the American Academy of Pediatrics, a board member of the Illinois Society of Plastic Surgery, and does committee work for the American Council of Academic Plastic Surgeons.
Mimis Cohen, Craniofacial
Dr. Mimis Cohen is a Professor and the chief of the Division of Plastic, Reconstructive, and Cosmetic Surgery at UI Health, where he also serves as the director of the Craniofacial Center. Dr. Cohen is world-renowned for his work in the field of cleft lip and palate surgery.  He has published extensively on the topic and lectured throughout the world.  Dr. Cohen received his medical degree from the University of Athens, Greece before coming to UI Health for special training in General and Plastic Surgery.  He is board certified in Plastic Surgery.  As a University Professor with extensive clinical and teaching experience, Dr. Cohen is at the forefront of the specialty.  He brings to his patients the knowledge and experience of state-of-the-art procedures, as well as the emerging new techniques in reconstructive and cosmetic surgery. 
Cem Mocan, Ophthalmology 
Children with craniofacial problems have a higher prevalence of eye, eyelid, and orbital problems and thus need regular follow-up. My function as part of the CFC team is to ensure the proper visual development of children with craniofacial problems, through regular evaluation and monitoring of their visual function, looking for any eye-related issues in this patient population including but not limited to corneal problems, compressive optic neuropathy, strabismus, and amblyopia.
George Hoganson, Pediatric Geneticist
Dr. George Hoganson is a board-certified Pediatric Geneticist at UI Health. Dr. Hoganson has clinical interests in the areas of biochemical genetic diseases, inborn errors of metabolism, evaluation, and management of congenital malformations, and genetic disorders in children.
Konstantin Slavin, Neurosurgeon 
Dr. Konstantin Slavin's clinical interests are diverse applications of surgical neuromodulation and functional neurosurgery. This includes the treatment of pain, movement disorders, epilepsy, and psychiatric diseases with a particular interest in the treatment of facial pain, cancer-related pain, Chiari malformation, stereotactic radiosurgery, brain tumors, and spinal problems. He has received many clinical and professional awards, including "Most Compassionate Doctor," and for many years has been included in the prestigious "Top Surgeons" and "Best Doctors" lists in the USA. 
Edward Michals, NeuroRadiology 
Dr. Edward Michals is the director of Diagnostic Neuroradiology in the Department of Radiology at UI Health. Dr. Michals' clinical interests include diffusion imaging, functional imaging, perfusion imaging, myelography, and vertebroplasty.