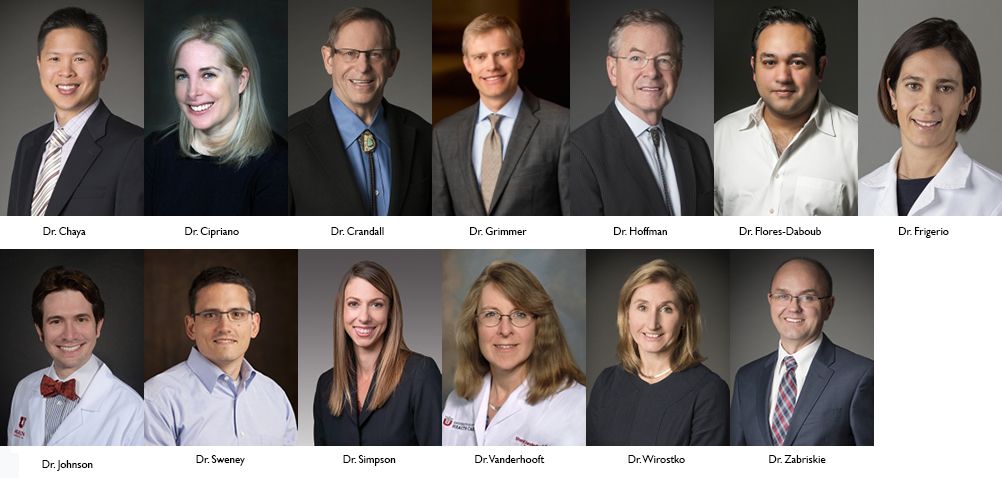 Physical Address
30 N 1900 E Medical Drive, SOM 4A330
Salt Lake City, UT 83132
801-581-6465
https://healthcare.utah.edu/
Medical Professionals
Dr. Sheryll L Vanderhooft, Pediatric Dermatologist | Pediatric Dermatology Clinic Director
Dr. Sheryll Vanderhooft has clinical expertise in all aspects of Pediatric Dermatology. She is board certified in Dermatology and Pediatric Dermatology. She enjoys providing medical and surgical dermatological care for skin conditions affecting infants, children, and adolescents. Her scope of practice ranges from common skin disorders, such as eczema, acne, and warts, to more rare disorders such as genetic skin diseases. She is an expert in the management of vascular birthmarks, including systemic therapy of complicated hemangiomas and yellow pulsed-dye laser treatment of port wine stains.

Dr. Sarah D. Cipriano, Pediatric Dermatologist
Dr. Sarah Cipriano is board certified in Dermatology and sub-specialty boarded in Pediatric Dermatology. Dr. Cipriano cares for pediatric patients with complex medical conditions and devotes a significant amount of time to caring for hospitalized children at Primary Children's Hospital. She is the co-coordinator of the national Society of Pediatric Dermatology Inpatient Special Interest Group and lectures locally, regionally and nationally. She works closely with pediatric generalists and specialists to delivery high quality and compassionate care to a diverse patient population.

Dr. Luke Johnson, Pediatric and Adult Dermatologist
Dr. Luke Johnson is a dermatologist with special training in Pediatric Dermatology, though he sees both adult and pediatric patients. He believes that his role as a doctor is to advise patients (and parents) on what he thinks would be the best course of action, and the final decision should be made jointly by both physician and patient (or parent). One reason he loves taking care of children is because in treating a child, he feels that he treats the whole family. His methods to improve skin conditions include lifestyle recommendations, medicines, surgery, and laser techniques. His expertise includes common conditions, such as acne and eczema, as well as rare disorders, such as unusual birthmarks and immunodeficiency states.

Dr. Alice Frigerio, Adult Dermatologist
Alice Frigerio, MD, PhD, is a Visiting Instructor. She has completed residencies in both Maxillo-Facial Surgery in Europe, Dermatology in the US, and a PhD in Neurosicence/Biomedical Devices. She came to the University of Utah from Harvard Medical School, where she was part of the Research Faculty, with a focus in vascular anomalies and R&D of biomedical devices for the treatment of facial paralysis. Dr. Frigerio is particularly interested in vascular anomalies, high-risk skin cancer patients, and dermatologic surgery. Her main research focus is the genetic etiologies of vascular anomalies and possible relationship with melanoma.

Dr. Josue Flores- Daboub, Pediatric Genetics 
Dr. Josue A. Flores Daboub received his medical degree from Dr. Jose Matias Delgado University Faculty of Medicine in El Salvador, completed his Pediatric residency at Lincoln Medical and Mental Health Center, and his Clinical Genetics Fellowship at Baylor College of Medicine. Dr. Flores Daboub is board certified in Clinical Genetics. He is currently an Assistant Professor of Pediatrics at the University of Utah and is in the Division of Pediatric Clinical Genetics at Primary Children's Hospital. His specific clinical interests include cardiovascular malformations, vascular anomalies, lymphatic dysplasias, and skeletal dysplasias.

Dr. Robert Hoffman, Pediatric Ophthalmology
Robert O. Hoffman is Chief of the Division of Pediatric Ophthalmology and Eye Muscle Disorders. Dr. Hoffman has special interests in retinopathy of prematurity, ocular problems associated with genetics, craniofacial disorders, cataracts in infants and children and complicated strabismus.

Dr. Craig Chaya, Pediatric and Adult Ophthalmology
Craig J. Chaya, MD, received his medical degree from Loma Linda University School of Medicine, Loma Linda, CA and his BS degree from La Sierra University, Riverside, CA. He completed residencies in internal medicine at the West Los Angeles VA Medical Center and ophthalmology at Texas Tech University in Lubbock, TX. Additionally, he received training in international ophthalmology as a Himalayan Cataract Project/Freedom Foundation Fellow in Kathmandu and Hetauda, Nepal and completed a glaucoma fellowship at the University of Utah, John A. Moran Eye Center, Salt Lake City, Utah.
Craig J. Chaya, MD, practices anterior segment ophthalmology with a focus on the medical and surgical management of routine/complex cataracts and glaucoma at the John A. Moran Eye Center, University of Utah, Salt Lake City. He also practices at Moran's clinics at the Redwood Health Center and Midvalley Health Center along with the Salt Lake Veterans Medical Center and Primary Children's Medical Center. He is an Assistant Clinical Professor at the University of Utah Department of Ophthalmology and Visual Sciences.

Dr. Alan Crandall, Adult Ophthalmology
Alan S. Crandall focuses on the medical and surgical management of glaucoma and cataracts, as well as complicated anterior segment surgery. Dr. Crandall has experience with trabeculoplasty and laser cyclophotocoagulation. He is involved in numerous clinical research studies at the Moran Eye Center. Dr. Crandall, the senior medical director of Moran's Global Outreach Division, lectures and performs sight-restoring surgery all over the world and was selected by Cataract and Refractive Surgery Today as one of the 50 most prominent opinion leaders. 

Dr. Norm Zabriskie, Adult Ophthalmology
Norm A. Zabriskie specializes in the medical and surgical treatment of glaucoma and cataracts. He is the Vice-Chairman of Clinical Operations and the Medical Director of the John A. Moran Eye Center. He has a research interest in the genetics of glaucoma.

Dr. Rachel Simpson, Adult Ophthalmology
Dr. Simpson specializes in the medical and surgical treatment of glaucoma—including the newest micro-invasive techniques such as iStent, GATT and Xen Gel Stent—as well as cataracts and advanced anterior segment surgeries.

Dr. Barbara Wirostko, Ophthalmology (10 year olds and younger)
Dr. Wirostko's clinical expertise is in clinical research and drug development for glaucoma pharmaceutical therapies. Her research interest is in sustained delivery of therapeutics for ocular pathologies and approaching glaucoma through non-intraocular pressure mediated approaches. She is offering comprehensive ophthalmology care as well as glaucoma consultations.

Dr. Matthew Sweney, Pediatric Neurology 
Dr. Sweney is a pediatric neurologist and epileptologist who focuses on the diagnosis and treatment of drug-resistant pediatric epilepsy. He is Medical Director of the Comprehensive Pediatric Epilepsy Program at Primary Children's Hospital. He is board certified in General Pediatrics, Neurology, Epilepsy, and Clinical Neurophysiology. He participates in all aspects of pediatric epilepsy care, including medication management, non-medication alternatives such as ketogenic diet and vagal nerve stimulation, as well as palliative and curative epilepsy surgery. He remains active in ongoing studies into new potential anti-seizure medications and is committed to providing advanced epilepsy care to children of the intermountain region.

Dr. J. Fredrick Grimmer, Vascular Anomaly Clinic Director | Pediatric ENT
Dr. Grimmer has an interest in pediatric head and neck surgery including cancer, airway reconstruction, congenital neck masses, thyroid disease, and vascular birthmarks. He is the Director of the Vascular Anomalies Center at Primary Children's Medical Center and coordinates the multidisciplinary care that such patients often require. He serves on the National Task Force for Vascular Anomalies and as the Otolaryngology Residency Program Director at the University of Utah. His research interest is in studying the genetic etiology of vascular tumors and vascular malformations and has been successful in obtaining several research grants. Dr. Grimmer has published numerous manuscripts, has lectured nationally and internationally, and serves as reviewer for several scientific journals.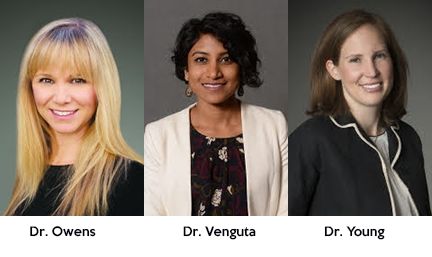 John A Moran Eye Center 
65 Mario Capecchi Drive
Salt Lake City, UT 84132
801-581-2352
Website: https://healthcare.utah.edu/moran/
 
Dr. Leah Owen, Pediatric Ophthalmology
Leah Owen, MD, PhD, is an assistant professor in the Department of Ophthalmology and Visual Sciences at the University of Utah. Dr. Owen has a BS in Biology and Chemistry from Westminster College and completed an MD/PhD program and ophthalmology residency at the University of Utah, as well as a pediatric ophthalmology fellowship at the Storm Eye Institute, Medical University of South Carolina. READ MORE
Dr. Marielle Young, Pediatric Ophthalmology
Marielle Young provides medical and surgical care for children with eye disease as well as adults and children with strabismus. Her clinical expertise includes the evaluation and treatment of amblyopia, strabismus, infantile and developmental cataracts, and nasolacrimal duct obstruction. READ MORE
Dr. Sravanthi Vegunta, Pediatric Ophthalmology
READ MORE ABOUT DR. VEGUNTA