Sturge-Weber Foundation Funded Studies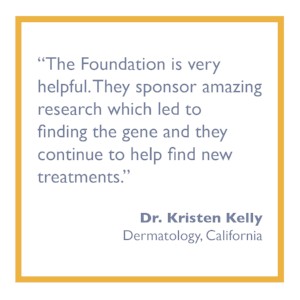 The Foundation strives to stimulate and support research on all aspects of Sturge-Weber syndrome, Klippel-Trenaunay, and Port Wine birthmark related conditions.The Sturge-Weber Foundation is happy to announce these new grants - 
December 2018
Total: $10,000
Colette Bichsel
Altered GNAQ Activity in CM and SWS-Affected Endothelial Cells May Lead to An Abnormal Response to Shear Stress
The aim of this project is to generate endothelial cells having the mutant GNAQ R183Q gene product, and to expose them to shear stress. This research is intended to discover the consequence of the GNAQ mutation on endothelial cells, possibly explaining how abnormal blood vessels form in Sturge-Weber syndrome.

 
Report from Charles Swindell, PhD, SWF Consultant
Request for grant applications for financial support of research related to Sturge-Weber syndrome was announced by the Foundation this past September 2013. We were delighted to receive a number of impressive applications.  These applications were reviewed by The Medical Advisory Board:   Alex V. Levin, MD, MHSc, FRCSC, Wills Eye Institute; Chair, SWF Medical Advisory Board Mustafa Sahin, MD, PhD, Boston Children's Hospital; Member, SWF Medical Advisory Board Michael H. Gold, MD, Medical Director, Gold Skin Care Center; Member, SWF Medical Advisory Board as well as two independent expert reviewers.  
Two applications— Jonathan Pevsner. PhD.  Associate Professor, Johns Hopkins University School of Medicine and Kennedy Krieger Institute and Kristen Kelly, M.D. Professor , University of California, Irvine – have been selected for funding.
We are delighted to be able to support the kind of high quality research programs that Jonathan and Kristen will undertake and are confident that the achievement of their objectives will hasten our progress toward better care and treatment options for those with SWS.  We look forward to hearing of their progress.   Brief summaries of Jonathan's and Kristen's research programs follow.
2014: Jonathan Pevsner, PhD, Associate Professor, Johns Hopkins University School of Medicine and Kennedy Krieger Institute. 
"From discovering the Sturge-Weber mutation to basic research enabling treatment strategies."
---
Total:  $55,400  
We recently identified mutations in the GNAQ gene as the cause of Sturge-Weber syndrome (SWS). We did this in collaboration with Dr. Anne Comi (Director, Hunter Nelson Sturge-Weber Center at Kennedy Krieger Institute) and Dr. Douglas Marchuk (Duke University).
To do this we sequenced the genomes of affected and unaffected parts of the body of three individuals, then confirmed the finding by sequencing 97 samples from 50 individuals
GNAQ is a gene that specifies a protein, Gαq, that regulates pathways inside cells controlling basic functions such as growth of cells and their ability to respond to signals. Gq responds to a chemical messenger (called GTP) by binding it, thus activating pathways inside cells, and then breaking it down.
In SWS Gαq is persistently activated to a small but significant extent. If Gαq is like a switch with "on" and "off" positions, in SWS the switch is locked into the partially "on" position.
We propose experiments to further understand the basic biology of SWS and how to develop treatment strategies.
(1) We propose to set up a screen, made available to the entire SWS research community, to sequence DNA samples from patients. Because of the nature of the mutation—from about 82% to 99% of DNA in a SWS sample are normal, while just 1% to 18% harbor the mutation—specialized DNA sequencing is needed.
(2) We propose to create an antibody that is specific to the mutant form of Gαq. This will allow us to determine which cell type(s) harbor the Gαq mutation. This antibody will also be shared with the research community and is likely to greatly facilitate SWS research.
(3) We propose to characterize the biochemical changes that occur in the mutant Gαq. This includes studying its GTP binding properties, its protein interaction partners, and the receptor(s) it is coupled to. This information is essential to develop treatment strategies.
2014: Kristen Kelly, MD, Professor, University of California, Irvine 
"Vascularized Port Wine Stain Skin Model for Evaluation of Cell Types in Lesion Pathogenesis." 
---
Total:  $29,998  
The cause of port wine stain birthmarks (PWS) is unknown and this makes development of good new treatments difficult. Our experiments will help us better understand what causes PWS in order to identify targets for treatment.
It is not known whether the problem is due to the cells that form blood vessels or to an abnormality in their environment. First, we will take biopsies from PWS and separate the three main cell types found in these lesions: the cells that form blood vessels, support cells, and the cells of the top-layer of skin.
We will construct a model of a PWS using these cells. In a series of experiments we will mix and match normal and PWS variants of the three main cell types to determine which cell type(s) contribute most to the disease. In addition, we will test the different cell types to determine which of them contains the gene change that was recently identified by researchers supported by the Sturge-Weber Foundation.
A better understanding of how blood vessels in PWS are growing abnormally and what cells are primarily responsible for this change is the next important step for research supported by the Sturge-Weber Foundation and together we can use knowledge to develop targeted treatments to eliminate the physical and psychosocial trauma associated with these lesions.
2008 - Wangcun Jia, PhD, University of California, Irvine
"Treatment of Port Wine Stain Birthmarks with Multiple Laser Pulses Approach,"
---
$30,000
Presently, all patients are treated using a single cryogenic spurt (for epidermal protection) and single laser pulse exposure (SCS-SLP). The central hypothesis of the proposed research is that multiple cryogen spurts applies intermittently with multiple laser pulse exposures (MCS-MLP) is not only safer than SCS-SLP but is also expected to improve PWS therapeutic outcome.
In the laser treatment of port wine stain birthmarks (PWS), malformed blood vessels can be injured selectively using advanced laser techniques. However, since blood vessel injury is still a wound, the damaged blood vessels will be regenerated to some extent by the body's self-healing ability. Consequently, the degree of PWS blanching seen following laser treatment remains variable and unpredictable. A novel approach to modulate the wound healing response in laser-irradiated skin using a drug called rapamycin is being developed in the Beckman Laser Institute and Medical Clinic (BLIMC). Rapamycin has been approved by the Food and Drug Administration (FDA) to fight tissue rejection following organ transplants. Rapamycin is also known for inhibiting the production of a protein involved in constructing blood vessel wall. In our preclinical studies using the in vivo rodent window chamber model, it was shown that rapamycin can inhibit the reformation of laser damaged blood vessels, which would always regenerate if only laser irradiation was applied. FDA approval to use rapamycin to improve PWS laser therapy has been recently obtained and a clinical trial is being carried out in BLIMC to determine whether the combined use of laser therapy and rapamycin will improve PWS therapeutic outcome.
2008 - Larry Scott Sherman, PhD, Oregon National Primate Research Center, Oregon Health & Science University
"Vascular endothelium-derived factors in Sturge-Weber Syndrome hypermyelination"
---
$30,000
Dr. Sherman and his team hope to discover the underlying cause(s) of this excess myelin formation.  This study seeks to determine the specific role of certain proteins and nerve cells in the development of white matter abnormalities associated with Sturge-Weber syndrome. White matter refers to the portion of the brain containing nerve fibers covered by a white insulation (myelin). Some children with SWS have areas of excess myelin formation, which seems to correlate strongly with cognitive decline.
Dr. Sherman's lab has found that the white matter of the brains of Sturge-Weber patients has excess amounts of myelin and a build-up of cells that make myelin. Myelin is a combination of proteins and lipids that surround the projections of nerve cells and help increase the speed at which nerve cells send electrical impulses. Nerve cells require just the right amounts of myelin to function properly. Too much or too little myelin can lead to cognitive problems, including mental retardation, and other neurological problems. The excess myelin in Sturge-Weber patients may therefore contribute to some of the conditions associated with the disease, including learning problems. Dr. Sherman's lab continues to characterize these changes in brain tissues from Sturge-Weber patients and they are trying to find the reasons that these excess cells accumulate. More brain tissue from Sturge-Weber patients following surgery will be needed to better understand the significance of these findings.
2007 - Guo-Yuan Yang, M.D., Ph.D.; University of California, San Francisco
"Development of Cerebrovascular Dysplasia Model for SWS Study"
---
$30,000
This application will focus on mechanistic studies that are manipulated to approximate key components of the human SWS phenotype. Based on published experience by our group and others, an animal model of growth factor stimulation against varying genetic backgrounds can approximate aspects of SWS to further understand its pathophysiology. Coupled with ongoing research into tissue expression pattern, they hope to better understand the interplay of signaling pathways and underlie the clinical phenotype.
2006 - Anita N. Haggstrom; University of Indiana
"Facial Port Wine Stains and Infantile Segmental Hemangiomas Associated with Neurocutaneous Disorders: Implications of Facial Patterns"
---
$ 30,000
This study seeks to determine the significance of the specific location and pattern of infantile segmental hemangiomas in individuals with PHACES syndrome and port wine stains in individuals with Sturge-Weber syndrome (SWS). Researchers believe that the distribution of port wine stains (PWS), like hemangiomas, is not random, but actually corresponds with embryologic facial prominences – small protrusions or buds of tissue in the embryo from which various facial structures develop. Extension Granted
2006 - Margarita Zeichner-David, PhD; University of Southern California
"A Molecular Approach to Understand the Oral Manifestations of Sturge- Weber Syndrome"
---
$30,000 
This proposal will seek to learn more about the oral symptoms and findings associated with SWS through the molecular study of cells collected from oral tissue and extracted teeth. Extension Granted