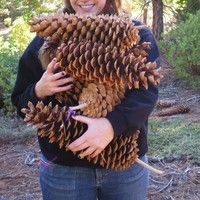 As the dog days of summer are upon us, I've really taken a shine to pinecones! After Aaron Novak tragically passed away, the geese were calling my attention if you recall that post. Perhaps because we live in Colorado and there are oodles of pinecone varieties, sizes, and shapes,  I'm curious about the uniqueness of each one I see on our walks. I first got the pinecone bug when I was in Montana visiting my mom and dad. The store had some pinecones for sale from Washington State and they were HUGE! I'd never seen them before and that got my ole noggin' going again!
They really are representative of the uniqueness in all of us and especially those living with Sturge-Weber syndrome. Sometimes we have prickly edges to protect us or keep the world at bay when we've just had too much to handle in life. Sometimes the squirrels or life have gnawed off the edges and there's a smooth little stem remaining that's still resilient in the face of all the adversity. And, have you ever noticed there's never just one pinecone on the ground? They all fall around each other, kind of like all of us who are dedicated to making the lives of those touched by an SWS diagnosis better and surrounding them with shelter during life's storms!
Seasons come and seasons go but they are made richer when we honor the different ways we live and the uniqueness in all of us. Just like the various types of pine trees and pinecones, it takes that diversity of thought and expression to make a rich wonderful forest to admire and enjoy. So, I encourage you before you get ramped back up into returning to school or work . . . take a few minutes and join me in cherishing our wonderful loved ones with SWS and the mighty little pinecone!
Faith, Hope, and Love,
Karen