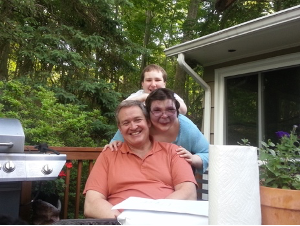 On October 11, 1986, my journey as a new mom and the guardian of my sweet baby girl born with Sturge-Weber syndrome began that day. Many of you reading this have your birthday too. Of course, looking back over all these years how could I have known that Kaelin and I would be so richly blessed to have so many cherished friends in our lives?
Kaelin is a Silver Girl Scout which is similar to the Boy Scouts as in one level below an Eagle Scout equivalent. Mrs. Wilson her scout leader and Kaelin get kudos for that accomplishment! Kaelin's and also my accomplishments remind us both that hard work with friends who are our silver and gold will carry us through life and make the journey sweeter. 
A SWS Warrior Mama recently celebrated her birthday and in acknowledging her gratitude for all the birthday wishes she stated how wonderful it was to have so many friends from around the world to go through life with her. Her comment prompted me to write this lil blog. Thank you for validating that together we ARE better. The COVID pandemic may have tried to isolate us in lockdowns etc but it can never take away our need for connection and community. It can never eradicate friendships. It can never defeat us just as SWS will never defeat us!
The SWF has been your community for over 34 years. The SWF has been a trusted constant source to turn to for medical, quality of life, and psychosocial issues. The SWF introduced you to your new "bestie". The SWF has been richly blessed by your engagement, volunteerism, and donations. It has been an honor to be at the helm and watch "besties" grow in love and support. You grow along with your children and engage in local clubs and activities which give you another mutual commonality to bind the friendships.
The SWF appreciates our friends who come to our community for a reason, a season, or a lifetime. We know that whether our friends are silver or gold or come and go we are richer for the untold memories made in our journey.
Looking forward to all the events SWF has planned for the year. See you at Family Game night…can't wait to catch up and see y'all! Stay safe and be well.
With faith, hope, and love,
Karen